Technical Reports
NI 43-101 Disclosure
The Company's latest Independent Technical Report relating to its Livengood Project is as follows:
Pre-Feasibility Study:
April 2017 Pre-Feasibility Study on the Livengood Gold Project, Livengood, Alaska, as reported in the April 10 , 2017 Canadian National Instrument 43-101 Technical Report.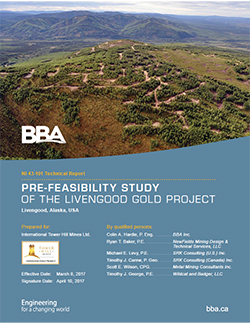 Click here to view past reports
National Instrument 43-101 - Standards of Disclosure for Mineral Projects is a rule developed by the Canadian Securities Administrators, and applicable throughout Canada , which establishes standards for all public disclosure an issuer makes of scientific and technical information concerning mineral projects materials to the issuer. International Tower Hill Mines Ltd. adheres to the NI 43-101 standards, and provides the following information related to the Livengood Project.