ITH Signs Option Agreement to Earn Interest in New High-Grade Alaskan Gold Project
June 19, 2007
Vancouver, B.C........International Tower Hill Mines Ltd. ("ITH" or the "Company") - (TSXV: ITH, OTCBB: ITHMF, Frankfurt: IW9) is pleased to announce the signing of a binding letter of intent, dated June 15, 2007 ("LOI"), with Hidefield Gold Plc. of London England. (AIM: HIF) and its partner, Mines Trust Ltd. (a private Alaskan company) pursuant to which ITH can earn up to a 80% interest in the project, referred to as South Estelle, located in southwest Alaska. ITH believes that the South Estelle project offers significant new discovery potential for a major gold deposit in this highly prospective porphyry/epithermal belt of Alaska. Hidefield and its Alaskan affiliate, headed by renowned global explorers John Prochnau and Phil St. George, have provided ITH with an excellent conceptual and field data foundation for the advancement of this exciting project toward a major new gold discovery.

Project Summary
The South Estelle project is a high-grade gold system consisting of 168 Alaska State mining claims located 30 kilometres east of the Company's Terra project, another high-grade gold discovery that entered the resource development drill phase this year. High-grade gold veins on the South Estelle project are hosted by alkaline intrusives that are similar in age to those hosting Kennecott Exploration Company's Whistler copper-gold project 15 kilometres to the northeast (see map below). This group of mineralized alkaline intrusives represents a very important group of gold and copper-gold ore deposits which include Bingham Canyon, Porgera and Grasberg. Previous work by Hidefield at South Estelle has identified a number of high-grade gold vein systems with 10% of the rock samples collected to date exceeding 10 g/t gold (total of 333 samples ranging from <.005 to 113 g/t gold). These vein systems and their relationship to the host intrusion will be the focus of the Company's 2007 program as well as assessing the overall potential of the area. The foregoing information with respect to the results of previous work on the South Estelle property has been obtained from Hidefield and has not been independently verified by the Company.

ITH/Hidefield/Mines Trust LOI
Under the ITH/Hidefield/Mines Trust LOI ITH can earn up to an aggregate 80% interest in the project as follows:

• ITH can earn an initial 51% interest by making payments of USD 42,000 upon TSX Venture Exchange ("TSXV") acceptance of the transaction on behalf of ITH and an additional USD 50,000 on or before January 8, 2008, and incurring aggregate exploration expenditures of USD 2,000,000 prior to December 31, 2009 (USD 75,000 on or before December 31, 2007, which ITH has committed to incur).

• ITH can earn an additional 19% interest (aggregate of 70%) by incurring an additional USD 3,000,000 in exploration expenditures before December 31, 2011.

• ITH can earn an additional 10% interest (aggregate of 80%) by funding all expenditures required to prepare and deliver a positive bankable feasibility study. There is no time limit for the delivery of such feasibility study.

At any time after ITH earns its initial 51% interest, Hidefield/Mines Trust can convert their interest into a 1.5% net smelter return royalty. Following ITH having earned its interest, if Hidefield/Mines Trust do not elect to convert to an NSR, the parties will enter into a joint venture, in which each will be responsible for its pro rata share of further expenditures. If the interest of either ITH or Hidefield/Mines Trust in such joint venture is reduced to 10% or less, such interest will be converted to a 1.5% NSR royalty.

The agreement with Hidefield/Mines Trust is subject to the acceptance for filing thereof by the TSXV on behalf of ITH.

click to enlarge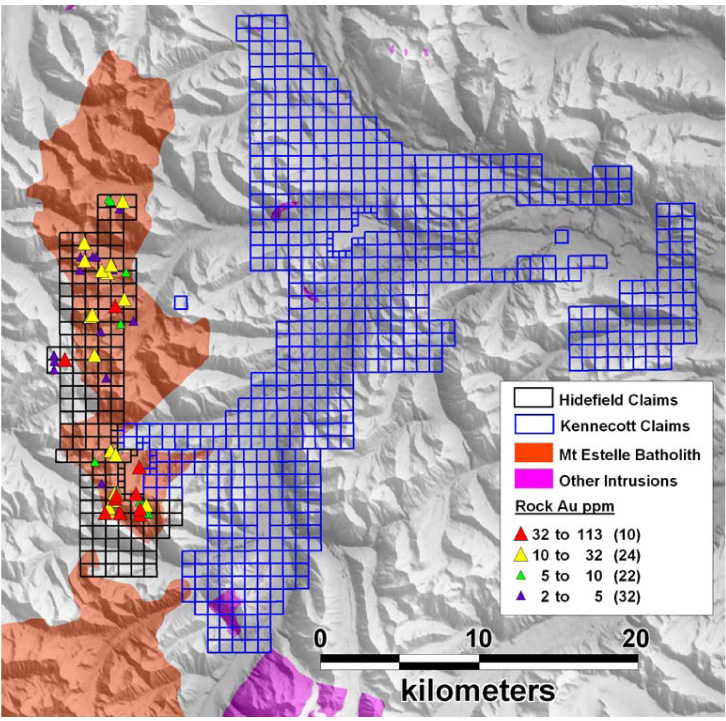 Map showing the Hidefield Gold South Estelle Claims relative to the Cretaceous Mt Estelle Batholith and the Kennecott Whistler Project claims.

Qualified Person and Quality Control/Quality Assurance
Jeffrey A. Pontius (CPG 11044), a qualified person as defined by National Instrument 43-101, has reviewed the scientific and technical information with respect to the South Estelle project that has been provided by Hidefield and is contained in this news release. Mr. Pontius is the President and CEO of ITH.

About International Tower Hill Mines Ltd.
International Tower Hill Mines Ltd. is a well financed resource exploration company, focused in Alaska and Nevada, which controls a number of exploration projects representing a spectrum of early stage to advanced gold and base metal discoveries. ITH is committed to building shareholder value through new discoveries while maintaining a majority interest in its holdings, thereby giving its shareholders the maximum value for their investment.

On behalf of
INTERNATIONAL TOWER HILL MINES LTD.
(signed) Jeffrey A. Pontius
Jeffrey A. Pontius,
President and Chief Executive Officer

Contact Information:
Quentin Mai, Vice-President - Corporate Communications
E-mail: qmai@ithmines.com
Phone: 1-888-770-7488 (toll free) or (604)683-6332 / Fax: (604) 408-7499

The TSX Venture Exchange has not reviewed and does not accept responsibility for the adequacy or accuracy of the contents of this press release, which has been prepared by management.

This press release contains forward-looking statements within the meaning of Section 27A of the Securities Act and Section 27E of the Exchange Act. Such statements include, without limitation, statements regarding the anticipated content, commencement and cost of exploration programs, anticipated exploration program results, the discovery and delineation of mineral deposits/resources/reserves, business and financing plans and business trends. Although the Company believes that such statements are reasonable, it can give no assurance that such expectations will prove to be correct. Forward-looking statements are typically identified by words such as: believe, expect, anticipate, intend, estimate, postulate and similar expressions, or are those, which, by their nature, refer to future events. The Company cautions investors that any forward-looking statements by the Company are not guarantees of future results or performance, and that actual results may differ materially from those in forward looking statements as a result of various factors, including, but not limited to, variations in the nature, quality and quantity of any mineral deposits that may be located, the Company's ability to obtain any necessary permits, consents or authorizations required for its activities, the Company's ability to produce minerals from its properties successfully or profitably, to continue its projected growth, to raise the necessary capital or to be fully able to implement its business strategies. All of the Company's Canadian public disclosure filings may be accessed via www.sedar.com and its US disclosure filings at www.sec.gov and readers are urged to review these materials, including the technical reports filed with respect to the Company's mineral properties. This press release contains information with respect to adjacent or similar mineral properties in respect of which the Company has no interest or rights to explore or mine. The Company advises US investors that the US Securities and Exchange Commission's mining guidelines strictly prohibit information of this type in documents filed with the SEC. Readers are cautioned that the Company has no interest in or right to acquire any interest in any such properties, and that mineral deposits on adjacent or similar properties are not indicative of mineral deposits on the Company's properties.

This press release is not, and is not to be construed in any way as, an offer to buy or sell securities in the United States.