ITH Drills 202.69 Metres of 1.37 g/t Gold at Livengood Deposit, Alaska
June 26, 2008
Results Highlight Significant Resource Expansion Potential
Hole MK-RC-008 - 202.69 metres of 1.37 g/t gold
Hole MK-RC-007 - 59.4 metres of 1.96 g/t gold
Hole MK-RC-001 - 66 metres of 1.56 g/t gold

Vancouver, B.C.....International Tower Hill Mines Ltd. ("ITH" or the "Company") - (TSXV: ITH, AMEX: THM, Frankfurt: IW9) is pleased to announce initial drill results from the 2008 resource expansion program on its Livengood gold project in Alaska. The Company has received final results from 7 of the 19 holes drilled to date that are part of this year's 150-hole, 45,000-metre program (Figure 1). Notable intersections were returned from hole MK-RC-008, with 202.69 metres of 1.37 g/t gold (including 30.5 metres of 4.1 g/t gold), hole MK-RC-007, with 59.4 metres of 1.96 g/t gold (including 4.6 metres of 13.7 g/t gold), and hole MK-RC-001, with 66 metres of 1.56 g/t gold (including 6.1 metres of 5.9 g/t gold) - all of which were infill holes on the southern and eastern side of the Lillian zone, respectively - and western step-out hole MK-RC-005, with 33.5 metres of 1.63 g/t gold (including 3.1 metres of 7.3 g/t gold) (see Table 1).

These initial 2008 holes are a combination of step out and infill holes that have extended the Livengood deposit to the west, north and south as well as expanding the high-grade core zone. They represent some of the best drill intersections returned from the property to date, with the deposit remaining open in all directions. The results confirm the significant resource expansion potential of the deposit, with extensive mineralization in both sedimentary and volcanic units from surface to the current nominal drill depth of about 200 metres below surface (see Table 2). Many of the new holes have intersected thicker and higher grade zones of mineralization than those used in estimating the 2007 inferred resource of 87.8 million tonnes at 0.71 g/t gold, using a 0.50 g/t gold cutoff, for approximately 2 million contained ounces of gold. Assays for 12 additional holes are pending at this time.

The project is currently operating one reverse circulation drill and one core drill and the Company will add a second reverse circulation drill rig by the end of June. The 2008 drill program will test an area approximately three times the size of that previously drilled. The Company anticipates that it will complete approximately 25 holes at Livengood each month from now through to December 2008, and intends to release regular updates as results are received. In addition, the Company intends to arrange for the preparation of an updated NI 43-101 resource estimate mid way through the 2008 program (anticipated to be released in mid-October) as an aid in characterizing size and grade changes to this rapidly expanding deposit.

Table 1: Drill Result Highlights, Livengood Project, Alaska
Hole #
From (metres)
To (metres)
Length (metres)
g/t Gold
MK-RC-0001
138.68
204.22
65.54
1.56
includes
153.92
160.02
6.10
5.92
includes
182.88
190.50
7.62
4.82
MK-RC-0002
134.11
144.78
10.67
3.14
153.92
167.64
13.72
1.38
271.27
333.76
62.49
0.60
MK-RC-0003
115.82
140.21
24.39
0.62
MK-RC-0004
0.00
62.48
62.48
0.47
102.11
108.20
6.09
0.83
112.78
132.59
19.81
0.82
MK-RC-0005
1.52
33.53
32.01
1.63
includes
12.19
15.24
3.05
7.27
MK-RC-0006
Pending
MK-RC-0007
25.91
71.63
45.72
1.43
includes
44.20
50.29
6.09
7.69
128.02
187.45
59.43
1.96
includes
128.02
132.59
4.57
13.70
includes
160.02
164.59
4.57
2.77
MK-RC-0008
10.67
210.31
199.64
1.38
includes
88.39
118.87
30.48
4.11
Table 2: Drill Hole Mineralization Summary Table - Livengood Project, Alaska
Hole ID

Total Length
(metres)
Length Mineralized
(metres)*
Average Grade Mineralized Section (g/t gold)
% of Hole Mineralized
MK-RC-001
321.56
121.92
1.14
38%
MK-RC-002
335.28
123.46
0.94
37%
MK-RC-003
222.50
65.57
0.47
29%
MK-RC-004
274.32
150.88
0.56
55%
MK-RC-005
269.75
57.93
1.16
21%
MK-RC-006
Pending
MK-RC-007
286.51
160.04
1.32
56%
MK-RC-008
213.36
202.69
1.37
95%
2008 Average
275
126
1.05
41%
Pre 2008 Average
258
86
0.85
33%
Percent Increase from 2007 to 2008
6%
32%
19%
21%
Click to Enlarge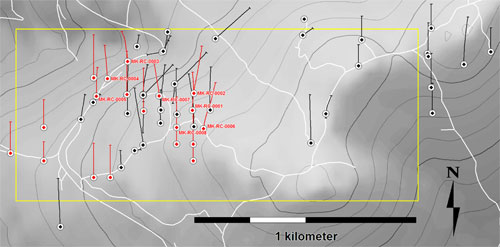 Figure 1: Livengood Drill Hole Map
2008 holes in red and 2008 reported holes labelled in red.
Qualified Person
Jeffrey A. Pontius (CPG 11044), a qualified person as defined by National Instrument 43-101, has supervised the preparation of the scientific and technical information that forms the basis for this news release and has approved the disclosure herein. Mr. Pontius is the President and CEO of ITH.
The work program at Livengood was designed and is supervised by Dr. Russell Myers, Vice President, Exploration of ITH, and Robert Butts, Livengood Project Manager, who are responsible for all aspects of the work, including the quality control/quality assurance program. On-site personnel at the project photograph the core from each individual borehole prior to preparing the split core. Duplicate reverse circulation drill samples are collected with one split sent for analysis. Representative chips are retained for geological logging. All sample shipments are sealed and shipped to ALS Chemex in Vancouver, B.C. for assay. ALS Chemex's quality system complies with the requirements for the International Standards ISO 9001:2000 and ISO 17025: 1999. Analytical accuracy and precision are monitored by the analysis of reagent blanks, reference material and replicate samples. Quality control is further assured by the use of international and in-house standards. Finally, representative blind duplicate samples are forwarded to ALS Chemex and an ISO compliant third party laboratory for additional quality control.
About International Tower Hill Mines Ltd.
International Tower Hill Mines Ltd. is a resource exploration company, focused in Alaska and Nevada, which controls a number of exploration projects representing a spectrum of early stage to advanced gold and base metal discoveries. ITH is committed to building shareholder value through new discoveries while maintaining a majority interest in its holdings, thereby giving its shareholders the maximum value for their investment.
On behalf of
INTERNATIONAL TOWER HILL MINES LTD.
(signed)
Jeffrey A. Pontius
Jeffrey A. Pontius,
President and Chief Executive Officer
Contact Information:
Quentin Mai, Vice-President - Corporate Communications
E-mail: qmai@internationaltowerhill.com
Phone: 1-888-770-7488 (toll free) or (604)683-6332 / Fax: (604) 408-7499
The TSX Venture Exchange has not reviewed and does not accept responsibility for the adequacy or accuracy of the contents of this press release, which has been prepared by management.

This press release contains forward-looking statements within the meaning of Section 27A of the Securities Act and Section 27E of the Exchange Act. Such statements include, without limitation, statements regarding the anticipated content, commencement and cost of exploration programs, anticipated exploration program results, the discovery and delineation of mineral deposits/resources/reserves, the anticipated preparation and timing of an updated 43-101 resource estimate at Livengood, the potential for a significant expansion of the estimated Livengood resources, business and financing plans and business trends. Although the Company believes that such statements are reasonable, it can give no assurance that such expectations will prove to be correct. Forward-looking statements are typically identified by words such as: believe, expect, anticipate, intend, estimate, postulate and similar expressions, or are those, which, by their nature, refer to future events. The Company cautions investors that any forward-looking statements by the Company are not guarantees of future results or performance, and that actual results may differ materially from those in forward-looking statements as a result of various factors, including, but not limited to, variations in the nature, quality and quantity of any mineral deposits that may be located, the Company's inability to obtain any necessary permits, consents or authorizations required for its activities, the inability of the Company to obtain assay results in a timely manner due to laboratory workload, the Company's inability to produce minerals from its properties successfully or profitably, to continue its projected growth, to raise the necessary capital or to be fully able to implement its business strategies, including those detailed above, and other risks identified in the Company's most recent Management Discussion and Analysis and Form 20F annual report. All of the Company's Canadian public disclosure filings may be accessed via www.sedar.com and its US disclosure filings at www.sec.gov and readers are urged to review these materials, including the technical reports filed with respect to the Company's mineral properties.

This press release is not, and is not to be construed in any way as, an offer to buy or sell securities in the United States.