Vancouver, B.C........International Tower Hill Mines Ltd. ("ITH" or the "Company") (TSXV: ITH, NYSE-A: THM, Frankfurt: IW9) is pleased to announce that it has signed an agreement with Redstar Gold Corporation (TSXV: RGC) to purchase all of Redstar's interest in the North Bullfrog project in Nevada (in which the Company currently has the option to earn up to a 70% interest). As consideration for the acquisition of all of Redstar's interest, the Company will pay to Redstar CAD 250,000 and issue 200,000 common shares to Redstar.

North Bullfrog Project

The North Bullfrog project includes nine highly prospective gold targets (Figure 1), one of which (the Mayflower property), was drilled by the Company in 2008 and contains an initial NI 43-101 indicated resource of 57,086 ounces of gold and an inferred resource of 23,793 ounces of gold (Table 1). The North Bullfrog property covers approximately 24 square kilometres, with approximately 30% of the land being leased patented federal lode mining claims. The property includes the newly acquired Connection property (see NR08-25), which has a number of historic drill intersections that have yet to be followed up (Table 2). The Company is currently targeting a multiple deposit concept for the property, which could support a central processing facility.

Following the completion of the acquisition, the Company will implement an exploration plan designed not only to expand the Mayflower deposit but also to assess and develop the other District scale targets. The Company anticipates that, given its present commitments on the Livengood project in Alaska, it would consider a follow-up drilling program at the North Bullfrog Project in early 2010.



Table 1 : MAYFLOWER INDICATED & INFERRED RESOURCE (using a 0.50 g/t gold cut-off grade)
Resource

Tonnes > Cutoff

Grade > Cutoff

Contained Ounces

Category

(tonnes)

Gold (g/t),

Silver (g/t)

Gold

Silver

INDICATED

2,020,000

0.88

0.45

57,086

29,160

INFERRED

950,000

0.78

0.36

23,793

10,904


This initial resource estimate (see NR08-18) covers only part of the Mayflower gold system, which remains open and indicates the potential for a bulk tonnage deposit. The August 25, 2008 technical report on the North Bullfrog Project (available on SEDAR) also summarizes initial metallurgical data from six bottle tests completed for ITH at Hazen labs at a 10 mesh crush size, which returned an average gold recovery of 76% after 16 hours.



Table 2: Selected Drillhole Assays Results* Connection Area
Hole

Opt
Gold

Interval
(Feet)

From
(Feet)

To
(Feet)

Highest
Value Over
5 Feet

g/t
Gold

Interval (Metres)

From
(Metres)

To
(Metres)

Highest
Value
Over 5
Feet

NB92

0.084

25

60

85

0.184

2.866

7.6

18.3

25.9

6.308

NB99

0.079

30

25

55

0.327

2.691

9.1

7.6

16.8

11.211

NB80

0.051

50

50

100

0.106

1.752

15.2

15.2

30.5

3.634

NB104

0.050

20

100

120

0.120

1.697

6.1

30.5

36.6

4.114

NB101

0.034

30

10

40

0.062

1.171

9.1

3.0

12.2

2.126

NB105

0.031

50

45

95

0.058

1.049

15.2

13.7

29.0

1.989
*Assay data taken from results reported by Cordex Exploration Company and are believed to be representative, although the Company has not yet confirmed these with its own drill data. Until such confirmation has been obtained, readers should not place undue reliance on the information contained herein. Assays in some cases by atomic absorption only; analysis from 1974 to 1982 by Rocky Mountain Geochemical Corp, Monitor Geochemical Laboratory Inc and Hawthorne Analytical Laboratories. The mineralized zone has been defined by 19 historic vertical holes totalling 1396 metres (4580 feet), only 2 of which exceed 90 metres (300 feet) in length (the deepest is 160 metres or 525 feet). All 19 holes have at least 1.5 metres grading 0.45 g/t gold (5 feet grading 0.013 opt gold).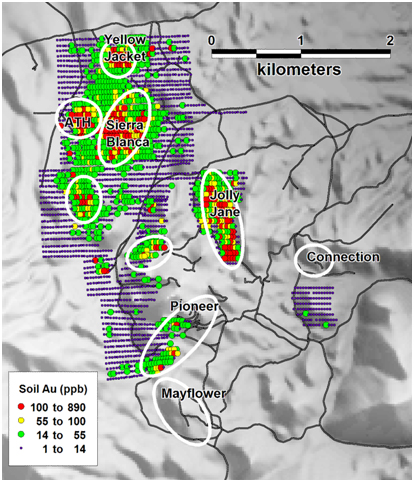 Figure 1: Significant Prospects in the North Bullfrog Project Area where additional deposits might be located.



Agreement Terms

Pursuant to an agreement made as of July 30, 2009 among Redstar and Redstar Gold U.S.A. Inc., as vendors ("Vendors"), Talon Gold Nevada Inc. ("Talon") (the Company's Nevada subsidiary), as purchaser, and the Company, as guarantor, Talon has agreed to acquire all of the Vendors' interest in the North Bullfrog project (including the underlying leases of an aggregate of 33 patented claims, all data, and 213 unpatented mining claims). The key points of the agreement include the following:
Payment by ITH of CAD 250,000, and the issuance of 200,000 shares, to the Vendors for their full interest in the North Bullfrog project.
The Vendors will make available the services of Redstar's US Exploration Manager until December 31, 2009 to assist Talon in fully assuming the operational control of the North Bullfrog Project, including completing the orderly transfer of all leases, exploration data and exploration permits to Talon.
The completion of the acquisition will eliminate the Company's current vesting requirements to earn a 60% interest under the existing March 15, 2007 option agreement, which included a remaining approximately CAD 1,400,000 expenditure requirement plus the issuance of 10,000 common shares, as well as the requirement to produce a feasibility study to earn an additional 10% interest (for a total of 70%) in the North Bullfrog Project.

Closing of the acquisition is subject to the acceptance for filing thereof by the TSX Venture Exchange on behalf of each of Redstar and the Company, the approval thereof by the NYSE-Amex on behalf of the Company and the satisfaction of the usual conditions precedent, including the accuracy of representations and warranties, and the performance of covenants, as at closing. Closing of the acquisition is to occur 5 business days after all regulatory acceptances and approvals have been received.

Property Summary

The North Bullfrog Property is located near Beatty, Nevada and has excellent access and infrastructure. It is 7 kilometres north of the historic Bullfrog mine operated by Barrick Gold Corporation until the mid 1990's (see NR07-05). The results from the 2008 drilling program and initial resource estimate on the Mayflower target have defined an outcropping, south dipping, broad zone of gold mineralization within favourable volcanoclastic units cored by a high-grade quartz vein system. This high-grade mineralization is currently well exposed in the David Adit, where native gold was observed, and requires further exploration down dip to determine its significance and potential. The Mayflower mineralization is low-sulphide in character with deep pervasive oxidation in the favourable units.

Qualified Person and Quality Control/Quality Assurance

Jeffrey A. Pontius (CPG 11044), a qualified person as defined by National Instrument 43-101, has supervised the preparation of the scientific and technical information that forms the basis for some of this news release and has approved the disclosure herein. Mr. Pontius is not independent of ITH, as he is the President and CEO and holds common shares and incentive stock options.

Dr. Roger Steininger, Ph.D., CPG, a consulting economic geologist, acted as the Qualified Person, as defined in NI 43-101, for the exploration data and supervised the preparation of the technical exploration information on which some of this news release is based. Dr. Steininger has a PhD in economic geology and more than 35 years of relevant experience as a mineral exploration geologist. He is a Certified Professional Geologist [No. 7417] by the American Institute of Professional Geologists. Both Dr. Steininger and Steininger Consulting are independent of the Company under NI 43-101.

Mr. Gary Giroux, M.Sc., P. Eng (B.C.), a consulting geological engineer employed by Giroux Consultants Ltd., has acted as the Qualified Person, as defined in NI 43-101, for the Giroux Consultants Ltd. mineral resource estimate. He has over 30 years of experience in all stages of mineral exploration, development and production. Mr. Giroux specializes in computer applications in ore reserve estimation, and has consulted both nationally and internationally in this field. He has authored many papers on geostatistics and ore reserve estimation and has practiced as a Geological Engineer since 1970 and provided geostatistical services to the industry since 1976. Both Mr. Giroux and Giroux Consultants Ltd. are independent of the Company under NI 43-101.

The work program at North Bullfrog was designed and supervised by Dr. Russell Myers, Vice President of Exploration, Talon Gold (US) LLC (a wholly owned subsidiary of ITH responsible for carrying out the Company's exploration programs), and Dr. Jacob Margolis, U.S. Exploration Manager for Redstar Gold Corp., who are responsible for all aspects of the work, including the quality control/quality assurance program. On-site personnel at the project log, tag and track each individual borehole sample, which is then sealed and shipped to ALS Chemex for assay. ALS Chemex's quality system complies with the requirements for the International Standards ISO 9001:2000 and ISO 17025: 1999. Analytical accuracy and precision are monitored by the analysis of reagent blanks, reference material and replicate samples. Quality control is further assured by the use of international and in-house standards. Finally, representative blind duplicate samples are forwarded to ALS Chemex and an ISO compliant third party laboratory for additional quality control.

About International Tower Hill Mines Ltd.

International Tower Hill Mines Ltd. is a resource exploration company, focused in Alaska and Nevada, which controls a number of exploration projects representing a spectrum of early stage to the advanced multimillion ounce gold discovery at Livengood. ITH is committed to building shareholder value through new discoveries while maintaining a majority interest in its key holdings, thereby giving its shareholders the maximum value for their investment.

On behalf of
INTERNATIONAL TOWER HILL MINES LTD.

(signed) Jeffrey A. Pontius

Jeffrey A. Pontius,
President and Chief Executive Officer

Contact Information: Quentin Mai, Vice-President - Corporate Communications
E-mail: qmai@internationaltowerhill.com
Phone: 1-888-770-7488 (toll free) or (604)683-6332 / Fax: (604) 408-7499

Neither TSX Venture Exchange nor its Regulation Services Provider (as that term is defined in the policies of the TSX Venture Exchange) accepts responsibility for the adequacy or accuracy of this press release, which has been prepared by management.

Cautionary Note Regarding Forward-Looking Statements

This press release contains forward-looking statements within the meaning of Section 27A of the Securities Act and Section 27E of the Exchange Act. All statements, other than statements of historical fact, included herein including, without limitation, statements regarding the anticipated content, commencement and cost of exploration programs, anticipated exploration program results, the discovery and delineation of mineral deposits/resources/reserves, the potential for the expansion of the estimated resources at the North Bullfrog Project, business and financing plans and business trends, are forward-looking statements. Information concerning mineral resource estimates also may be deemed to be forward-looking statements in that it reflects a prediction of the mineralization that would be encountered if a mineral deposit were developed and mined. Although the Company believes that such statements are reasonable, it can give no assurance that such expectations will prove to be correct. Forward-looking statements are typically identified by words such as: believe, expect, anticipate, intend, estimate, postulate and similar expressions, or are those, which, by their nature, refer to future events. The Company cautions investors that any forward-looking statements by the Company are not guarantees of future results or performance, and that actual results may differ materially from those in forward looking statements as a result of various factors, including, but not limited to, variations in the nature, quality and quantity of any mineral deposits that may be located, the Company's inability to obtain any necessary permits, consents or authorizations required for its activities, the Company's inability to produce minerals from its properties successfully or profitably, to continue its projected growth, to raise the necessary capital or to be fully able to implement its business strategies, and other risks and uncertainties disclosed in the Company's Annual Information Form filed with certain securities commissions in Canada and the Company's annual report on Form 20-F filed with the United States Securities and Exchange Commission (the "SEC"), and other information released by the Company and filed with the appropriate regulatory agencies. All of the Company's Canadian public disclosure filings may be accessed via www.sedar.com and its United States public disclosure filings may be accessed via www.sec.gov, and readers are urged to review these materials, including the technical reports filed with respect to the Company's mineral properties.

Cautionary Note Regarding References to Resources and Reserves

National Instrument 43 101 - Standards of Disclosure for Mineral Projects ("NI 43 101") is a rule developed by the Canadian Securities Administrators which establishes standards for all public disclosure an issuer makes of scientific and technical information concerning mineral projects. Unless otherwise indicated, all resource estimates contained in or incorporated by reference in this press release have been prepared in accordance with NI 43-101 and the guidelines set out in the Canadian Institute of Mining, Metallurgy and Petroleum (the "CIM") Standards on Mineral Resource and Mineral Reserves, adopted by the CIM Council on November 14, 2004 (the "CIM Standards") as they may be amended from time to time by the CIM.

United States shareholders are cautioned that the requirements and terminology of NI 43-101 and the CIM Standards differ significantly from the requirements and terminology of the SEC set forth Industry Guide 7. Accordingly, the Company's disclosures regarding mineralization may not be comparable to similar information disclosed by companies subject to the SEC's Industry Guide 7. Without limiting the foregoing, while the terms "mineral resources", "inferred mineral resources" and "indicated mineral resources" are recognized and required by NI 43-101 and the CIM Standards, they are not recognized by the SEC and are not permitted to be used in documents filed with the SEC by companies subject to Industry Guide 7. Mineral resources which are not mineral reserves do not have demonstrated economic viability, and United States shareholders are cautioned not to assume that all or any part of a mineral resource will ever be converted into reserves. Further, inferred resources have a great amount of uncertainty as to their existence and as to whether they can be mined legally or economically. It cannot be assumed that all or any part of the inferred resources will ever be upgraded to a higher resource category. In addition, the NI 43-101 and CIM Standards definition of a "reserve" differs from the definition adopted by the SEC in Industry Guide 7. In the United States, a mineral reserve is defined as a part of a mineral deposit which could be economically and legally extracted or produced at the time the mineral reserve determination is made.

Cautionary Note Regarding Similar Mineral Property References

This press release contains information with respect to adjacent or similar mineral properties in respect of which the Company has no interest or rights to explore or mine. The Company advises US investors that the US Securities and Exchange Commission's mining guidelines strictly prohibit information of this type in documents filed with the SEC. Readers are cautioned that the Company has no interest in or right to acquire any interest in any such properties, and that mineral deposits on adjacent or similar properties are not indicative of mineral deposits on the Company's properties.

This press release is not, and is not to be construed in any way as, an offer to buy or sell securities in the United States.