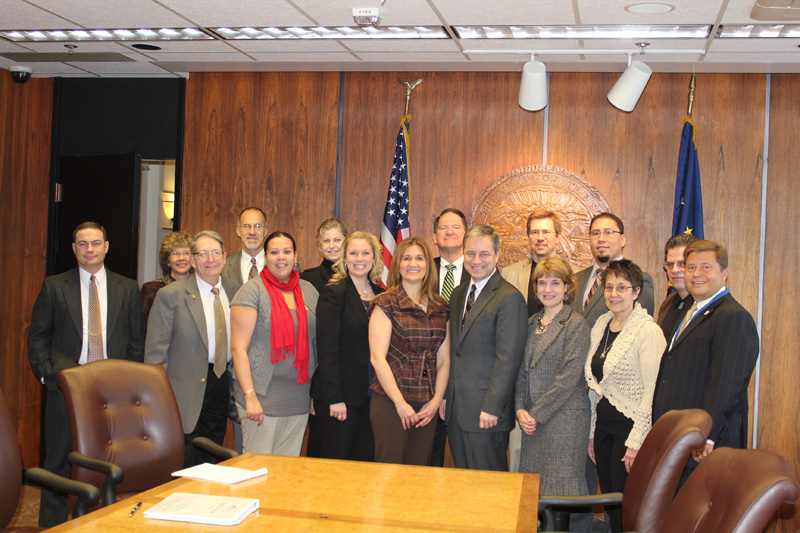 Tower Hill Mines management
with Governor Sean Parnell
and Fairbanks Chamber of Commerce
in the capital city of Juneau, Alaska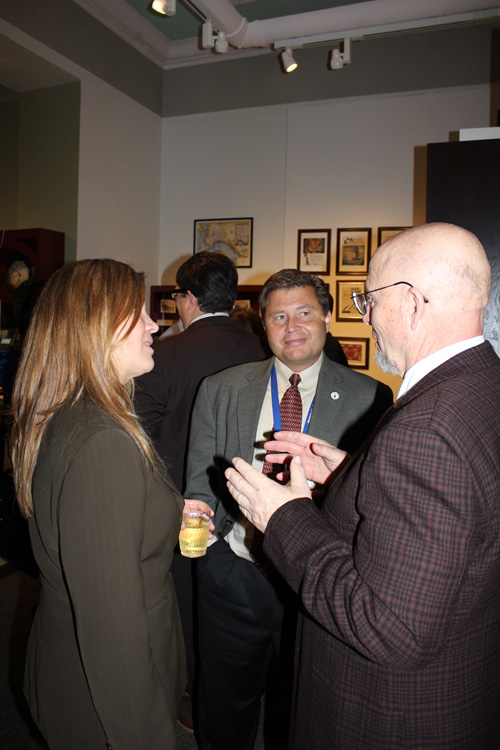 Tower Hill Mines management
with the Alaska legislative
members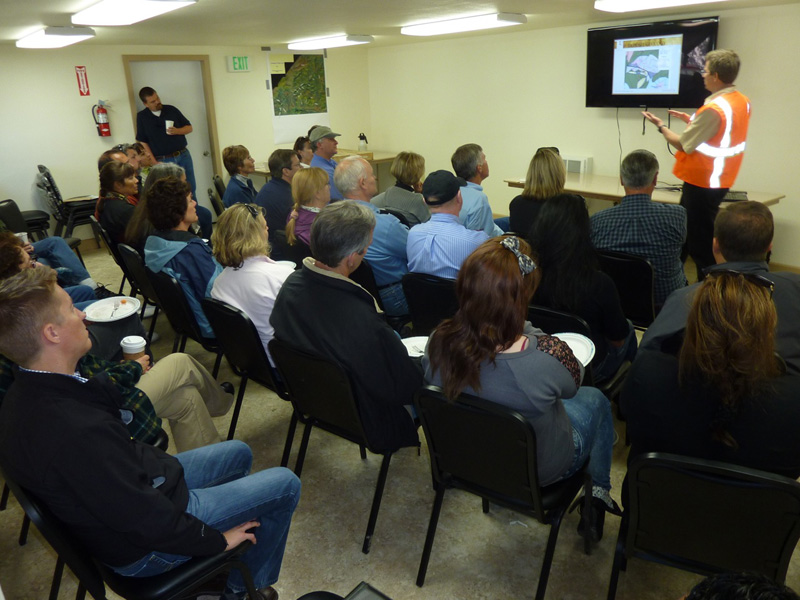 Tower Hill Mines giving project
overview to Resource Development
Council at the Livengood site
Acting Responsibly Isn't Something We Do, It's Who We Are...
The Livengood Gold Project is part of a vibrant Alaskan region that includes Fairbanks as well as a number of rural communities in interior Alaska. Our Alaska Development Team is 100 percent Alaska residents with over 150 years of combined experience working in the state and their roots go deep. In addition to being respected professionals in the mining industry, many of them were raised in Fairbanks and are now bringing up their own families in the area. The bottom line is that we don't just work in Alaska;
we live there and are directly involved in the growth and well-being of the community.
While environmental stewardship is part of our corporate culture, our people at the Livengood Gold Project always make it easy to do the right thing -- because they live where they mine. They are both great employees and good citizens who double time as coaches, conservationists and volunteers, donating more than 1,000 hours to volunteer work last year alone. Below is a list of just some of the organizations our people are involved with, including at a Board or Leadership Level from local non profit organizations and Churches, to Fiduciary and State Boards, to Trade Organziations:
Alaska Mineral Commission
Alaska Miners Association
Alaska Resource Education Council
Alaska State Chamber of Commerce
American Heart Association, Western States Affiliate
Council of Alaska Producers
Fairbanks Chamber of Commerce
Fairbanks North Star Borough School District
North Star Ballet
Nordic Ski Club of Fairbanks
Resource Development Council
School of Mineral Engineering, University of Alaska - Fairbanks
Usibelli Coal Mine
Various Local Churches
Already an Alaskan Contributor
The Livengood Gold Project is still in the early stages of development, but they are a respected company n the Alaska business community. The potential of the project is well known throughout the state and has generated support within local and political communities. While support lies not just in the fact that the Livengood project would employ hundreds of Alaskans, but because of the seasoned and respected Alaska based team. Our professionals come to this project with long resumes of success in Alaskan projects and they know that before you build a mine, you have to build relationships.
Livengood Project Updates
As they work to advance the project ITH Staff have reached out to communities and colleagues across the State to keep them updated on our latest developments. Our briefings have initially focused on government officials and regulatory agencies, but have also included businesses, trade organizations, communities and their leaders.
If you are located in Alaska and are interested in learning more about the Livengood project, please contact Rick Solie, Community & Government Relations Manager, at rsolie@ithmines.com.