ITH Expands New High Grade Gold Zones with Ongoing Drill Program at its Bulk Tonnage Livengood Project, Alaska
June 14, 2007
28 metres @ 1.7 g/t Gold and 71 metres @ 1.0 g/t Gold, including 16 metres @ 2.1 g/t Gold


Vancouver, B.C........International Tower Hill Mines Ltd. ("ITH" or the "Company") - (TSXV: ITH, OTCBB: ITHMF, Frankfurt: IW9) is pleased to announce the assay results from the first five (5) holes (1,291 metres) of its 2007 drilling program on the Livengood bulk tonnage project near Fairbanks, Alaska. These first 5 holes are part of the Company's 2007 Livengood resource development drilling program, which is planned for an aggregate of 8,000 meters. The results continue to illustrate the large tonnage potential of this project and the continuity of the higher-grade core zones initially intersected in late 2006 (95 metres @ 1.6 g/t gold, see NR07-01).

To date, ITH and its predecessor, AngloGold Ashanti (U.S.A.) Exploration Inc., have completed 21 drill holes in the core Livengood target area, which covers a zone of mineralization over 2 kilometres long and at least ½ of a kilometre wide (see Table 1). The overall average thickness of the mineralization encountered in these 21 holes is approximately 70 metres, with an overall grade of 0.9 g/t gold (similar to the average grade of the Fort Knox deposit located 100 kilometres to the south, which is reported to contain over 200 million tonnes and to have produced approximately 300,000 ounces of gold per year for the past 10 years). Within this large, stratigraphically controlled, low-grade body the Company has defined a number of higher grade structurally controlled zones which appear to be acting as higher grade feeders to the large deposit (see Table 2).

The information received to date by the Company has allowed it to design an effective grid drilling program to target these extensive higher grade zones as its initial step in defining what it anticipates could be a multimillion ounce target.

ITH has tested two zones (Lillian and Radio) within the overall Livengood target area, which is defined by a four square kilometre gold-in-soil anomaly. Both of these areas have returned encouraging results, with all holes drilled to date intersecting broad zones of mineralization indicating the potential for significant expansion. The bulk of the recent results are from the Lillian zone, which appears to be a higher-grade part of the system.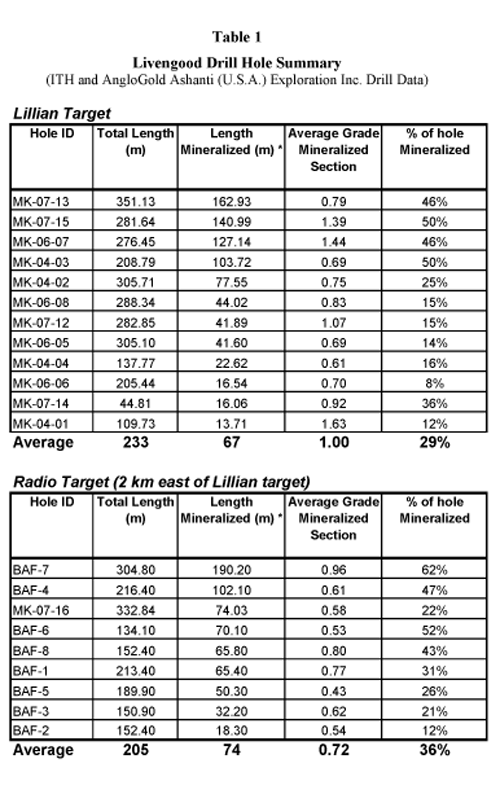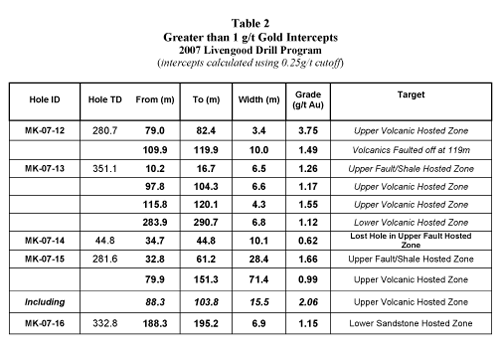 Lillian Zone
Higher grade mineralization in the Lillian Zone is controlled by a combination of structure and favourable volcanic host rocks. The currently available information indicates that there are two sequences of favourable volcanic rocks, each hosting significant gold mineralization, over thickness of greater than 50 metres. These volcanic rocks are typically strongly altered with disseminated pyrite and arsenopyrite with widespread low-grade gold mineralization. Superimposed on these strongly altered low-grade gold zones is a stockwork of northwest and northeast trending quartz-carbonate-arsenopyrite veinlets which elevate the grade to over 1 g/t gold. In addition to the volcanic-hosted mineralization, a new type of fault controlled mineralization was discovered in hole MK-07-15 (see Table 2). This mineralization occurs in faulted calcareous sediments and is currently unconstrained.

Radio Zone
The Radio Zone is located approximately two kilometres east of the Lillian Zone but appears to be related to the same overall gold event. Gold mineralization in the Radio Zone is related to an intrusive centre similar in age to the Fort Knox deposit. Higher-grade zones in this area appear to be controlled by an east--west structural zone with the large low-grade bodies hosted by sandstone and siltstone units. The best mineralization encountered to date is in close proximity to altered intrusives, which are believed to be the source of the mineralization at Livengood.

Project Background
The Livengood project is located in the Tintina Gold belt approximately 110 kilometres north of the city of Fairbanks, Alaska and is accessed via the paved, all-weather, Elliot Highway. ITH acquired 100% of the interest of AngloGold Ashanti (U.S.A.) Exploration Inc. in the Livengood project on August 4, 2006 as part of the sale of its Alaskan property package to ITH (see NR06-09).

Qualified Person and Quality Control/Quality Assurance
Jeffrey A. Pontius (CPG 11044), a qualified person as defined by National Instrument 43-101, has supervised the preparation of the scientific and technical information that forms the basis for this news release. Mr. Pontius is the President and CEO of International Tower Hill Mines Ltd.

The work program at Livengood was designed and is supervised by Dr. Russell Myers, Vice President of Exploration, Talon Gold (US) LLC (a wholly owned subsidiary of ITH responsible for carrying out the Company's exploration programs), who is responsible for all aspects of the work, including the quality control/quality assurance program. On-site personnel at the project photograph the core from each individual borehole prior to preparing the split core, which is then sealed and shipped to ALS Chemex for assay. ALS Chemex's quality system complies with the requirements for the International Standards ISO 9001:2000 and ISO 17025: 1999. Analytical accuracy and precision are monitored by the analysis of reagent blanks, reference material and replicate samples. Quality control is further assured by the use of international and in-house standards. Finally, representative blind duplicate samples are forwarded to ALS Chemex and an ISO compliant third party laboratory for additional quality control.

About International Tower Hill Mines Ltd.
International Tower Hill Mines Ltd. is a well financed resource exploration company, focused in Alaska and Nevada, which controls a number of exploration projects representing a spectrum of early stage to advanced gold and base metal discoveries. ITH is committed to building shareholder value through new discoveries while maintaining a majority interest in its holdings, thereby giving its shareholders the maximum value for their investment.

On behalf of
INTERNATIONAL TOWER HILL MINES LTD.
(signed) Jeffrey A. Pontius
Jeffrey A. Pontius,
President and Chief Executive Officer

Contact Information: Quentin Mai, Vice-President -- Corporate Communications
E-mail: qmai@ithmines.com
Phone: 1-888-770-7488 (toll free) or (604)683-6332 / Fax: (604) 408-7499

The TSX Venture Exchange has not reviewed and does not accept responsibility for the adequacy or accuracy of the contents of this press release, which has been prepared by management.

This press release contains forward-looking statements within the meaning of Section 27A of the Securities Act and Section 27E of the Exchange Act. Such statements include, without limitation, statements regarding the anticipated content, commencement and cost of exploration programs, anticipated exploration program results, the discovery and delineation of mineral deposits/resources/reserves, business and financing plans and business trends. Although the Company believes that such statements are reasonable, it can give no assurance that such expectations will prove to be correct. Forward-looking statements are typically identified by words such as: believe, expect, anticipate, intend, estimate, postulate and similar expressions, or are those, which, by their nature, refer to future events. The Company cautions investors that any forward-looking statements by the Company are not guarantees of future results or performance, and that actual results may differ materially from those in forward looking statements as a result of various factors, including, but not limited to, variations in the nature, quality and quantity of any mineral deposits that may be located, the Company's ability to obtain any necessary permits, consents or authorizations required for its activities, the Company's ability to produce minerals from its properties successfully or profitably, to continue its projected growth, to raise the necessary capital or to be fully able to implement its business strategies. All of the Company's Canadian public disclosure filings may be accessed via www.sedar.com and its US disclosure filings at www.sec.gov and readers are urged to review these materials, including the technical reports filed with respect to the Company's mineral properties.

This press release contains information with respect to adjacent or similar mineral properties in respect of which the Company has no interest or rights to explore or mine. The Company advises US investors that the US Securities and Exchange Commission's mining guidelines strictly prohibit information of this type in documents filed with the SEC. Readers are cautioned that the Company has no interest in or right to acquire any interest in any such properties, and that mineral deposits on adjacent or similar properties are not indicative of mineral deposits on the Company's properties.

This press release is not, and is not to be construed in any way as, an offer to buy or sell securities in the United States.