ITH Expands SE Chisna Porphyry Copper-Gold Target
November 27, 2007
Vancouver, B.C........International Tower Hill Mines Ltd. ("ITH" or the "Company") (TSXV: ITH, AMEX: THM, Frankfurt: IW9) is pleased to announce that a recently completed airborne geophysical survey and geochemical sampling program indicates that the Chisna SE Copper Porphyry target now covers an area of at least 3 square kilometres. The target remains open to the south and east (Figure 1).
The principal gold and copper anomaly coincides with a magnetic high, which is interpreted to reflect higher level alteration caused by a large copper-gold porphyry system at depth. Surface mapping and soil and rock chip sampling have identified a number of "leakage" features in the alteration cap overlying this large alkaline related system. The average assay of all rock samples (246) collected over a 7 square kilometre area in and around the alteration cap was
0.37 g/t gold, 1.4 g/t silver and 0.08% copper
(Table 1). The SE target is developing into a significant new porphyry discovery and will be a major focus of the 2008 Chisna exploration program, which will include ground geophysics to define sulfide bodies at depth for drill testing.
In addition, the Company has received follow-up results on its POW exploration target, located 55 kilometres to the north-west of Chisna SE. Exploration has now delineated a strongly silicified structural zone over one-half kilometre in length, which averages
1.1 g/t gold, 7.9 g/t silver and 0.3% copper
in all the rock samples collected to date (39) (Table 2). This large mineralized structural zone appears spatially related to the porphyry system discovered to the west earlier this year. The new results at POW have now outlined a significant drill target for 2008 which has large tonnage potential.
Implications
Ongoing geological mapping and sampling at Chisna SE has successfully identified areas of strong high level porphyry type alteration which has been cut by a series of copper and gold mineralized fractures thought to represent leakage from a significant mineral system at depth. The zone of alteration and highly mineralized fractures is coincident with a strong magnetic feature revealed in a recent airborne geophysical survey conducted by the Company. The fact that the highly anomalous gold and copper values in a recent soil survey occur in conjunction with this magnetic feature strongly supports the high potential for a significant porphyry discovery in the area.
At the request of the Company, internationally renowned geological consultant Dr. Richard Sillitoe, a globally recognized authority on porphyry copper systems, visited a number of the Company's properties in Alaska in August, 2007, including the Chisna property. The results of his visit are summarized in a geological report dated August 26, 2007 and entitled "Comments on the Livengood, Chisna and Terra Prospects, Alaska". The report is not a "Technical Report", as defined in N.I. 43-101, but the complete report may be viewed at www.ithmines.com.
With respect to the Livengood property, Dr. Sillitoe had the following comment:
"The geologic characteristics at Chisna Southeast are those commonly observed in gold-rich porphyry copper systems. The porphyries are dioritic in composition and hydrothermal magnetite contents are distinctly elevated. Most of the gold is likely to accompany the chalcopyrite in the potassic core, although the geochemical response suggests the possibility that gold may be laterally a little more extensive than the copper. These features are typical of many gold-rich porphyry copper deposits worldwide".
Based on the extent and intensity of alteration types Dr. Sillitoe postulated that there may be more than one porphyry center present at Chisna SE. This now appears to be borne out by the soil geochemistry, which highlights a number of target areas within the overall more than 4 kilometre square system and enhances the possibility of finding economic deposits in the target area.
Table 1 SE Target Surface Sample Data
Rock Samples

Soil Samples (within bold boundary)

Gold

Silver

Copper

Gold

Silver

Copper

n = 246

(g/t)

(g/t)

(%)

n = 115

(g/t)

(g/t)

(ppm)

Max

11.45

79.0

7.1

Max

2.75

10.1

5840

Min

0.00

0.01

0.0

Min

.03

.07

26

Average

0.37

1.43

0.1

Average

0.38

1.14

397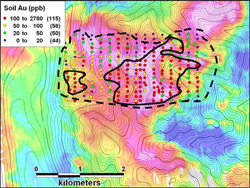 Click to enlarge
Figure 1: Gold in soils superimposed on preliminary total field magnetic data from Chisna SE. Figure 2. Soil survey and geology over the POW discovery
Table 2

POW target Surface Sample Data

Rock Samples

Soil Samples

Gold

Silver

Copper

Gold

Silver

Copper

n =39

(g/t)

(g/t)

(%)

n = 111

(g/t)

(g/t)

(ppm)

Max

12.20

81.60

3.6

Max

5.12

23.80

4980

Min

0.00

0.04

0.0

Min

0.00

0.14

12

Average

1.10

7.90

0.3

Average

0.16

1.44

348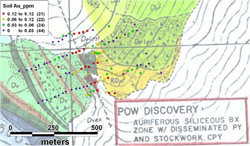 Click to enlarge
Figure 2. Soil survey and geology over the POW discovery
Qualified Person and Quality Control/Quality Assurance
Jeffrey A. Pontius (CPG 11044), a qualified person as defined by National Instrument 43-101, has supervised the preparation of the scientific and technical information that forms the basis for this news release. Mr. Pontius is the President and CEO of International Tower Hill Mines Ltd.
The work program at Chisna was designed and supervised by Dr. Russell Myers, Vice President of Exploration, Talon Gold (US) LLC (a wholly owned subsidiary of ITH responsible for carrying out the Company's exploration programs), who is responsible for all aspects of the work, including the quality control/quality assurance program. On-site personnel at the project photograph all sample shipments which are then sealed and shipped to ALS Chemex for assay. ALS Chemex's quality system complies with the requirements for the International Standards ISO 9001:2000 and ISO 17025: 1999. Analytical accuracy and precision are monitored by the analysis of reagent blanks, reference material and replicate samples. Quality control is further assured by the use of international and in-house standards. Finally, representative blind duplicate samples are forwarded to ALS Chemex and an ISO compliant third party laboratory for additional quality control.
About International Tower Hill Mines Ltd.
International Tower Hill Mines Ltd. is a resource exploration company, focused in Alaska and Nevada, which controls a number of exploration projects representing a spectrum of early stage to advanced gold and base metal discoveries. ITH is committed to building shareholder value through new discoveries while maintaining a majority interest in its holdings, thereby giving its shareholders the maximum value for their investment.
On behalf of
INTERNATIONAL TOWER HILL MINES LTD.
(signed)
Jeffrey A. Pontius
Jeffrey A. Pontius,
President and Chief Executive Officer
Contact Information:
Quentin Mai, Vice-President - Corporate Communications
E-mail: qmai@internationaltowerhill.com
Phone: 1-888-770-7488 (toll free) or (604)683-6332 / Fax: (604) 408-7499
The TSX Venture Exchange has not reviewed and does not accept responsibility for the adequacy or accuracy of the contents of this press release, which has been prepared by management.
This press release contains forward-looking statements within the meaning of Section 27A of the Securities Act and Section 27E of the Exchange Act. Such statements include, without limitation, statements regarding the anticipated content, commencement and cost of exploration programs, anticipated exploration program results, the discovery and delineation of mineral deposits/resources/reserves, business and financing plans and business trends. Although the Company believes that such statements are reasonable, it can give no assurance that such expectations will prove to be correct. Forward-looking statements are typically identified by words such as: believe, expect, anticipate, intend, estimate, postulate and similar expressions, or are those, which, by their nature, refer to future events. The Company cautions investors that any forward-looking statements by the Company are not guarantees of future results or performance, and that actual results may differ materially from those in forward-looking statements as a result of various factors, including, but not limited to, variations in the nature, quality and quantity of any mineral deposits that may be located, the Company's inability to obtain any necessary permits, consents or authorizations required for its activities, the Company's ability to produce minerals from its properties successfully or profitably, to continue its projected growth, to raise the necessary capital or to be fully able to implement its business strategies. All of the Company's Canadian public disclosure filings may be accessed via www.sedar.com and its US disclosure filings at www.sec.gov and readers are urged to review these materials, including the technical reports filed with respect to the Company's mineral properties.
This press release is not, and is not to be construed in any way as, an offer to buy or sell securities in the United States.