ITH Acquires Strategic Base Metals Property Adjoining BMP Project, Alaska
March 26, 2008
Historic drill intercepts include:
3.5 metres of 4% Copper and 370 g/t Silver &
5.5 metres of 0.9% Copper, 6% Zinc and 177 g/t Silver
Vancouver, B.C........International Tower Hill Mines Ltd. ("ITH" or the "Company") (TSXV: ITH, AMEX: THM, Frankfurt: IW9) is pleased to announce it has executed an agreement with respect to the exploration and option to lease of key exploration ground adjoining the Company's BMP claim block from Cook Inlet Region, Inc. (CIRI), an Alaska Native Corporation.
The BMP project area hosts a number of highly prospective base and precious metal occurrences originally discovered by the Anaconda Mining Company in the early 1980's. Two holes drilled by Anaconda intersected a shale hosted massive sulfide body which returned grades of 4.0% copper, 0.3% lead, 1.0% zinc and 370 g/t silver over a true thickness of 3.5 metres and 0.9% copper, 1.0% lead, 6.0% zinc and 177 g/t silver over a true width of 5.5 metres. Sampling by the Company on the 6120 target returned average grades of 2.3% copper, 3.4 g/t gold, 33 g/t silver, 0.16% nickel and 0.07% cobalt from 20 samples of an outcropping skarn zone 5 kilometres south of the Anaconda drilling (Figure 1).
The historic drilling by Anaconda on the Dall prospect and recent ITH surface discoveries of high-grade massive sulfide mineralization have confirmed the presence of both silver-rich and gold-rich copper mineralization over an 8 kilometre strike length. The mineralization along the prospective corridor represents a very attractive goldsilver rich base metal target which will be the focus of an airborne geophysical survey in the spring of 2008 and extensive surface exploration in the summer.
BMP Project Summary
The BMP property is located approximately 40 kilometres north of the Company's Terra project. The property covers approximately 13,193 hectares and is comprised of 108 Alaska State mining claims staked in October 2006 and owned 100% by the Company (approximately 6,993 hectares) and approximately 6,200 hectares of fee simple lands held under the exploration agreement with option to lease from CIRI. The property is underlain by sediments similar to the Selwyn Basin in the Yukon Territory, which hosts numerous large sedimentary exhalative (SEDEX) zinc deposits. Several significant shale-hosted polymetallic mineral occurrences are known within the property area. In addition, the area has been intruded by a number of Tertiary age porphyries which have formed copper-zinc-silver skarns and breccia pipe style deposits indicating the potential for a large porphyry deposit. The property has never been systematically explored using modern techniques.
The Company's new Dall-6120 gold-copper corridor on the property was originally discovered by the Anaconda Mining Company in the 1980's immediately prior to their exit from Alaska. There has not been any follow-up work since the initial drill discoveries over 20 years ago. The historic Anaconda drilling, linked with a geophysical survey carried out by the Company in 2007, indicates continuity of the sulfide body over at least 150 metres of strike. Mapping by the Company suggests that the Dall mineralization is hosted by a fault zone developed in a north-south anticlinal hinge zone which may extend 3 kilometres to the north where another mineralized zone occurs. The 6120 prospect occurs 5 kilometres to the south of the Dall mineralization adjacent to a large Tertiary pluton. The Company believes that the BMP project offers significant potential for discovery of a major new precious metal-rich base metal deposit.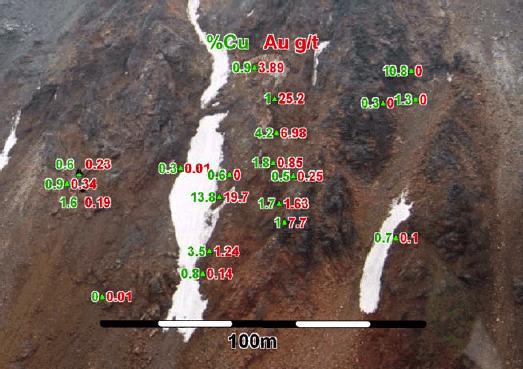 Figure 1: 6120 Prospect showing the distribution of high-grade copper and gold mineralization.
Exploration Agreement and Option to Lease with Cook Inlet Region, Inc.
ITH and CIRI have signed an exploration agreement dated February 26, 2008, with an option to lease, covering a 6,200 hectare area located immediately adjacent to the eastern side of the Company's existing BMP claim block. The general terms of the agreement are as follows:
Exploration Agreement (2 year initial term with automatic 3 year renewal)
Payments: Annual rental payment of USD 20,000 per year for the first 2 years, increasing to USD 40,000 for years 3 through 5. At the end of year 2, the Company will be required to reduce the lands subject to the agreement by 50% unless otherwise justifiable geologically, in which case a bonus of USD 5.00 per acre is payable upon the renewal for all lands retained in excess of 3,100 hectares.

Work Commitments: USD 275,000 in year 1 escalating to USD 500,000 in year 5.

Lease Option: Upon having expended a minimum of USD 800,000, drilled 2,500 feet of core drilling and produced a positive pre-feasibility study over an area within the CIRI lands that contains mineralization and may be capable of development into a mine, the Company may elect to enter into a mining lease over the ground that is the subject to the positive prefeasibility study.

Mining Lease (15 year initial term, and so long thereafter as commercial production continues)
Advance Minimum Royalty: Payments of USD 150,000 in years 1-3, USD 200,000 in years 4-5 and USD 400,000 for year 6 and beyond (unless a feasibility study has been completed). AMR payments are 50% deductible from royalty payments.

Sliding Scale Royalty: An NSR Royalty of between 1 and 2.5% before payback and between 3 and 5% (depending upon the gold price) after payback is payable in respect of precious metals, and an NSR Royalty of 1% before payback and 3% after payback is payable in respect of base metals. In both cases, CIRI will have the option to replace the NSR Royalty with a Net Profits Interest Royalty (10% before payback and 20% after).

CIRI Participation Option: Upon a production decision being made, CIRI will have the right to acquire up to a 15% working interest in the leased area by contributing 2 times its pro rata share of the cumulative project expenditures by the Company (other than AMR payments) to the date of the exercise of CIRI's participation option.
The Company will also make annual donations of USD 10,000 to The CIRI Foundation or other scholarship fund designated by CIRI during the continuance of the exploration agreement and term of any mining lease (increasing to USD 50,000 per year following commercial production).
Qualified Person
Jeffrey A. Pontius (CPG 11044), a qualified person as defined by National Instrument 43-101, has supervised the preparation and/or review of the scientific and technical information that forms the basis for this news release. Mr. Pontius is the President and CEO of ITH.
About International Tower Hill Mines Ltd.
International Tower Hill Mines Ltd. is a resource exploration company, focused in Alaska and Nevada, which controls a number of exploration projects representing a spectrum of early stage to advanced gold and base metal discoveries. ITH is committed to building shareholder value through new discoveries while maintaining a majority interest in its holdings, thereby giving its shareholders the maximum value for their investment.
On behalf of
INTERNATIONAL TOWER HILL MINES LTD.

(signed) Jeffrey A. Pontius
Jeffrey A. Pontius,
President and Chief Executive Officer
Contact Information:
Quentin Mai, Vice-President - Corporate Communications
E-mail: qmai@internationaltowerhill.com
Phone: 1-888-770-7488 (toll free) or (604)683-6332 / Fax: (604) 408-7499
The TSX Venture Exchange has not reviewed and does not accept responsibility for the adequacy or accuracy of the contents of this press release, which has been prepared by management.
This press release contains forward-looking statements within the meaning of Section 27A of the Securities Act and Section 27E of the Exchange Act. Such statements include, without limitation, statements regarding the anticipated content, commencement and cost of exploration programs, anticipated exploration program results, the discovery and delineation of mineral deposits/resources/reserves, business and financing plans and business trends. Although the Company believes that such statements are reasonable, it can give no assurance that such expectations will prove to be correct. Forward-looking statements are typically identified by words such as: believe, expect, anticipate, intend, estimate, postulate and similar expressions, or are those, which, by their nature, refer to future events. The Company cautions investors that any forward-looking statements by the Company are not guarantees of future results or performance, and that actual results may differ materially from those in forward-looking statements as a result of various factors, including, but not limited to, variations in the nature, quality and quantity of any mineral deposits that may be located, the Company's inability to obtain any necessary permits, consents or authorizations required for its activities, the Company's inability to produce minerals from its properties successfully or profitably, to continue its projected growth, to raise the necessary capital or to be fully able to implement its business strategies. All of the Company's Canadian public disclosure filings may be accessed via www.sedar.com and its US disclosure filings at www.sec.gov and readers are urged to review these materials, including the technical reports filed with respect to the Company's mineral properties.
This press release contains information with respect to adjacent or similar mineral properties in respect of which the Company has no interest or rights to explore or mine. The Company advises US investors that the US Securities and Exchange Commission's mining guidelines strictly prohibit information of this type in documents filed with the SEC. Readers are cautioned that the Company has no interest in or right to acquire any interest in any such properties, and that mineral deposits on adjacent or similar properties are not indicative of mineral deposits on the Company's properties.
This press release is not, and is not to be construed in any way as, an offer to buy or sell securities in the United States.