ITH Expands Chisna Porphyry Copper-Gold Belt with Multiple New Discoveries
November 4, 2008
Vancouver, B.C........International Tower Hill Mines Ltd. ("ITH" or the "Company") - (TSXV: ITH, NYSE-A: THM, Frankfurt: IW9) is pleased to announce the results of its 2008 summer exploration program on the Chisna Copper-Gold Project in Alaska. Stream sediment surveys have now defined a
40 square kilometre area of anomalous copper and gold mineralization in the POW- Ptarmigan area, with values up to 4% copper and 13 g/t gold
(Table 1). The surveys have also discovered highly anomalous gold in two drainage basins in the
Eagle Ravine area, with values up to 0.8% copper and 0.29 g/t gold
, prompting the staking of additional ground by the Company to fully cover the targets. Additionally, the regional exploration program identified a new partially covered occurrence (Hematite prospect) which is a large area of hematite-magnetite alteration with disseminated chalcopyrite, indicative of a possible porphyry system at depth. These new discoveries highlight the as yet untested bulk copper-gold target potential of this emergent regional scale target (Figure 1).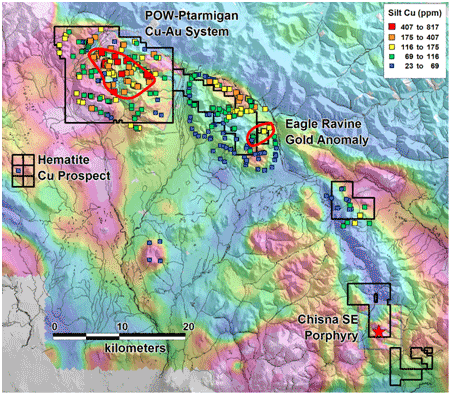 Figure 1: Copper Stream Sediment Anomalies in the Chisna Project Area on Regional Aeromagnetic Data
Chisna Project Background
The Chisna Project is located in South Central Alaska on the south side of the Alaska Range. The project consists of a total of 380 square kilometres of State of Alaska mining claims, owned 100% by the Company. The project is targeting previously unrecognized Cretaceous copper-gold porphyry style mineralization of a similar age to the Pebble deposit, located approximately 600 kilometres to the southwest. The project contains a number of grassroots surface discoveries made by ITH in 2006 and 2007 which were the focus of the 2008 follow-up work.
2008 Exploration Program Results
A total of 221 silt samples and 193 rock samples were collected in 2008. The work has now fully delineated the extent of the large POW-Ptarmigan copper - gold system, which has a strike length of approximately 10 kilometres and a width of 4 kilometres. A total of 300 rock samples collected from this highly altered and mineralized area average 0.1% copper and 0.2 g/t gold, thus confirming the highly mineralized nature of the terrain. Geological and geophysical mapping of this area has delineated broad areas of alteration and a general zonation of copper-rich mineralization in the west to more lead- and zinc-rich mineralization to the east - indicative of large porphyry systems.
Table 1: Metal concentrations from 300 rocks collected in the POW-Ptarmigan Area.

| | | | | | |
| --- | --- | --- | --- | --- | --- |
| | Copper % | Gold g/t | Silver g/t | Lead (ppm) | Zinc (ppm) |
| Max | 4.0 | 13 | 110 | 6250 | 2060 |
| Min | 0.0 | 0.002 | 0.01 | 0.8 | 2 |
| Mean | 0.1 | 0.22 | 3.1 | 60 | 105 |
| N= | 300 | 299 | 300 | 300 | 300 |
In the Eagle Ravine area, silt samples from two separate drainage basins returned strongly anomalous gold values (Table 2). Follow-up exploration discovered a variety of styles of mineralization, including hydrothermal breccias, garnet skarns, stockwork potassic alteration and sulphide replacement, thus suggesting a robust and complex porphyry-related mineral system. 47 rock samples collected over a 3 square kilometre area, along with geologic mapping, have confirmed the presence of a large, open ended system of copper-gold mineralization (Table 3).
At the Hematite Prospect, a large area of specular hematite and magnetite alteration with disseminated chalcopyrite has been discovered adjacent to an intrusive complex. Initial prospecting has identified alteration and mineralization over a kilometre of strike length outlining a large high level anomaly with potential at depth.
Table 2: Stream Sediment Sample Results from Eagle Ravine.
| | | | | | | |
| --- | --- | --- | --- | --- | --- | --- |
| | Copper (ppm) | Gold (ppb) | Silver (ppm) | Arsenic (ppm) | Bismuth (ppm) | Tellurium (ppm) |
| Max | 162 | 541 | 0.66 | 37 | 0.45 | 1.61 |
| Min | 68 | 15 | 0.22 | 22 | 0.23 | 0.14 |
| Mean | 107 | 140 | 0.40 | 31 | 0.34 | 0.48 |
| n= | 7 | 7 | 7 | 7 | 7 | 7 |
Table 3: Rock Assay Results from Eagle Ravine.
Copper
%

Gold
g/t

Silver
g/t

Arsenic
(ppm)

Bismuth
(ppm)

Tellurium
(ppm)

Max

0.8

0.29

5.3

621

34.2

36.9

Min

0.0

0.002

0.005

0.1

0.02

0.025

Mean

0.1

0.03

0.7

21

2.0

2.5

n=

47

47

47

47

47

47
Exploration Implications
The Company's sampling and prospecting work have now defined several key areas for focused future exploration. At 40 square kilometres, the POW-Ptarmigan area is an enormous target which could host multiple copper-gold systems. The mineral deposit vectors that have been defined by the 2008 work are a very positive indicator that one or more major deposits could be present in this new and under-explored Alaskan porphyry belt.
Qualified Person and Quality Control/Quality Assurance
Jeffrey A. Pontius (CPG 11044), a qualified person as defined by National Instrument 43-101, has supervised the preparation of the scientific and technical information that forms the basis for this news release. Mr. Pontius is the President and CEO of International Tower Hill Mines Ltd.
The work program at Chisna was designed and supervised by Dr. Russell Myers, Vice President of Exploration, Talon Gold (US) LLC (a wholly owned subsidiary of ITH responsible for carrying out the Company's exploration programs), who is responsible for all aspects of the work, including the quality control/quality assurance program. On-site personnel at the project photograph all sample shipments which are then sealed and shipped to ALS Chemex in Fairbanks, Alaska for preparation and on to Vancouver, B.C. for assay. ALS Chemex's quality system complies with the requirements for the International Standards ISO 9001:2000 and ISO 17025:1999. Analytical accuracy and precision are monitored by the analysis of reagent blanks, reference material and replicate samples. Quality control is further assured by the use of international and in-house standards. Finally, representative blind duplicate samples are forwarded to ALS Chemex and an ISO compliant third party laboratory for additional quality control.
About International Tower Hill Mines Ltd.
International Tower Hill Mines Ltd. is a resource exploration company, focused in Alaska and Nevada, which controls a number of exploration projects representing a spectrum of early stage to advanced gold and base metal discoveries. . The Company's core asset is the Livengood project, which hosts a new multimillion ounce, bulk tonnage gold discovery in a logistically favourable area 110 kilometres north of Fairbanks Alaska. ITH is committed to building shareholder value through new discoveries while maintaining a majority interest in its holdings, thereby giving its shareholders the maximum value for their investment.
On behalf of
INTERNATIONAL TOWER HILL MINES LTD.
(signed)
Jeffrey A. Pontius
Jeffrey A. Pontius,
President and Chief Executive Officer
Contact Information:
Quentin Mai, Vice-President - Corporate Communications
E-mail: qmai@internationaltowerhill.com
Phone: 1-888-770-7488 (toll free) or (604)683-6332 / Fax: (604) 408-7499
The TSX Venture Exchange has not reviewed and does not accept responsibility for the adequacy or accuracy of the contents of this press release, which has been prepared by management.
This press release contains forward-looking statements within the meaning of Section 27A of the Securities Act and Section 27E of the Exchange Act. Such statements include, without limitation, statements regarding the anticipated content, commencement and cost of exploration programs, anticipated exploration program results, the discovery and delineation of mineral deposits/resources/reserves, business and financing plans and business trends. Although the Company believes that such statements are reasonable, it can give no assurance that such expectations will prove to be correct. Forward-looking statements are typically identified by words such as: believe, expect, anticipate, intend, estimate, postulate and similar expressions, or are those, which, by their nature, refer to future events. The Company cautions investors that any forward-looking statements by the Company are not guarantees of future results or performance, and that actual results may differ materially from those in forward looking statements as a result of various factors, including, but not limited to, variations in the nature, quality and quantity of any mineral deposits that may be located, the Company's ability to obtain any necessary permits, consents or authorizations required for its activities, the Company's ability to produce minerals from its properties successfully or profitably, to continue its projected growth, to raise the necessary capital or to be fully able to implement its business strategies, including those detailed above, and other risks identified in the Company's most recent Management Discussion and Analysis and Form 20F annual report.. All of the Company's Canadian public disclosure filings may be accessed via
www.sedar.com
and its US disclosure filings at
www.sec.gov
and readers are urged to review these materials, including the technical reports filed with respect to the Company's mineral properties.
This press release contains information with respect to adjacent or similar mineral properties in respect of which the Company has no interest or rights to explore or mine. The Company advises US investors that the US Securities and Exchange Commission's mining guidelines strictly prohibit information of this type in documents filed with the SEC. Readers are cautioned that the Company has no interest in or right to acquire any interest in any such properties, and that mineral deposits on adjacent or similar properties are not indicative of mineral deposits on the Company's properties.
This press release is not, and is not to be construed in any way as, an offer to buy or sell securities in the United States.