International Tower Hill Continues to Expand Livengood Gold Deposit
January 13, 2009
Positive Metallurgical Results Indicate Low Cost Heap-Leach Potential

New Intercept Highlights
MK-08-33 - 136.3m @ 1.06 g/t Gold
MK-RC-0089 - 100.6m @ 1.16 g/t Gold & 4.6m @ 19.89 g/t Gold
MK-RC-0075 - 13.7m @ 5.99 g/t Gold


Vancouver, B.C
.......International Tower Hill Mines Ltd. ("ITH" or the "Company") - (TSXV: ITH, NYSE-A: THM, Frankfurt: IW9) is pleased to announce drill results from the final 18 holes of its 2008 resource expansion program from its multi-million ounce Livengood gold deposit near Fairbanks, Alaska (Table 1). The results continue to highlight the very significant potential for the project - expanding it to the south with some of the best mineralized holes drilled to date. In addition, new gold recovery data continues to indicate that the mineralization is amenable to low-cost heap leach recovery.
Analysis of all of the 168 holes (39,314 metres/131,047 feet) completed to date indicates that the deposit is essentially open in all directions and at depth. An updated 43-101 resource estimate, scheduled to be completed next month, will include 55 additional drill holes and the Company anticipates the updated estimate will significantly increase the overall resource at Livengood. The Company's 2009 goal is to expand the Livengood deposit to +10 million ounces, thereby placing it in the top 10% of gold discoveries globally.
Drilling Results Expand Resource Area
The new assay results highlight the continuity of higher grades to the margins of the currently defined Core Zone area, to the southwest
(MK-RC-0075 with 13.7 metres @ 5.99 g/t gold and 36.6 metres @ 1.1 g/t gold and MK-RC-0089 with 4.6 metres of 19.89 g/t gold and 100.6 metres of 1.16 g/t gold)
and northeast
(MK-RC-0085 with 50.3 metres @ 1.11 g/t gold & 10.7 metres @ 1.4 g/t gold)
. Many of the recent holes ended in mineralization, thereby indicating the significant depth potential of the deposit (Figure 1).
The new results continue to support the exploration model of an overall NE-SW trend to the mineralization which is extending well beyond the initial 2008 Core Zone target. These results also highlight a number of high priority target areas for high grade zone expansion. In 2009 the Company will carry out a two stage drill program, with a winter phase beginning in February to be followed by a summer phase, both of which will focus on expanding higher grade zones near surface and at depth.
Table 1
New Drill Result Highlights, Livengood Project, Alaska
Significant intercepts calculated using 0.25 g/t gold cut-off.
Hole #

From (m)

To (m)

Length (m)

g/t

MK-RC-0075

73.15

86.87

13.72

5.99

152.40

188.98

36.58

1.08

MK-RC-0076

147.83

210.31

62.48

0.90

228.60

236.22

7.62

1.06

259.08

284.99

25.91

0.69

MK-RC-0079

9.14

19.81

10.67

0.68

MK-RC-0080

41.15

57.91

16.76

2.00

184.40

245.36

60.96

0.55

MK-RC-0084

144.78

152.40

7.62

0.84

163.07

173.74

10.67

0.93

230.12

256.03

25.91

0.98

MK-RC-0085

166.12

176.78

10.66

1.40

199.64

213.36

13.72

0.69

227.08

277.37

50.29

1.11

MK-RC-0087

106.68

123.44

16.76

1.22

166.12

173.74

7.62

1.17

MK-RC-0088

44.20

64.01

19.81

1.52

92.96

99.06

6.10

2.03

MK-RC-0089

57.91

62.48

4.57

19.89

138.68

239.27

100.59

1.16

249.94

254.51

4.57

0.93

332.23

374.90

42.67

0.60

MK-RC-0090

126.49

140.21

13.72

1.17

MK-RC-0091

228.60

256.03

27.43

0.88

MK-RC-0097

138.68

149.35

10.67

0.72

MK-RC-0101

149.35

152.40

3.05

2.79

170.69

230.12

59.43

0.77

MK-RC-0103A

Lost hole at 6 metres

MK-RC-0103

92.96

111.25

18.29

2.56

129.54

137.16

7.62

2.79

187.45

207.26

19.81

0.77

211.84

237.74

25.90

1.48

246.89

252.98

6.09

0.77

MK-RC-0107

no significant intercepts

MK-RC-0108

89.92

126.49

36.57

0.82

152.40

169.16

16.76

0.86

204.22

220.98

16.76

1.10

225.55

265.18

39.63

0.78

MK-08-33

117.86

254.20

136.34

1.06

includes

139.60

150.27

10.67

3.58

includes

231.10

239.65

8.55

2.40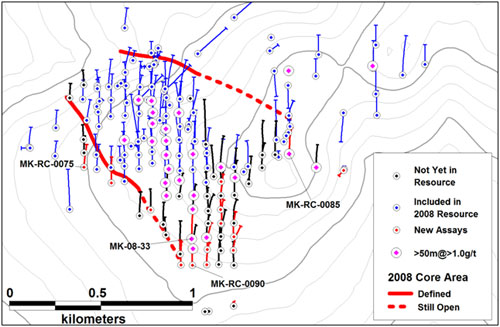 Figure 1: Plan map showing distribution of ITH drilling and status of resource estimation as of January 12, 2009. Black and red drill traces indicate holes that were not included in the October 2008 resource estimate, illustrating how much the deposit has expanded. Higher grade holes that have continuous intercepts of greater than 50 metres with grades in excess of 1 g/t gold are shown with larger magenta collars.
Metallurgical Testing
The recovery tests conducted to date indicate that the gold in both the oxidized and unoxidized parts of the deposit is recoverable with a cyanide solution and that the recovery is significantly enhanced with even minor oxidation of the rock.
Twenty-four coarse crush (minus 10 mesh) samples were submitted to Hazen Research for cyanide extraction testing in September 2008. Samples were chosen to represent different lithologies and degrees of oxidation in the deposit. The resultant data, combined with prior test work, indicate that the Livengood mineralization is amenable to cyanide extraction with an average overall gold recovery of 77% for the oxidized/partially oxidized material and 56% for the unoxidized material (Table 2). Furthermore, the results show that, in 1/3rd of the samples, 80% of the gold extraction is achieved in the first 16 hours and at 32 hours 80% of the samples have achieved greater than 80% of their total extraction. These results are considered to be very favourable and indicate that low-cost heap leaching may be a viable method for extracting the gold at Livengood. Approximately half of the material included in the October 2008 resource estimate is classified as oxidized or partially oxidized.
Table 2: Cyanide extraction results from 72 hour bottle roll tests conducted by Hazen Research on minus 10 mesh sample Livengood material. Head Assay refers to the assay of the original sample material. The Residue Assay is the amount of gold left in the solid material after the cyanide extraction. Calculated Head is the grade calculated based on the residue assay and the gold content of the cyanide solution. The gold recovery is calculated using both the head grade estimates.
Oxidized & Partially Oxidized Mineralization

Unoxidized Mineralization

n=21

Head Assay (g/t)

Calculated Head
(g/t)

Residue Assay (g/t)

Gold Recovery Based on Solids

Gold Recovery Based on Products

n=6

Head Assay (g/t)

Calculated Head
(g/t)

Residue Assay (g/t)

Gold Recovery Based on Solids

Gold Recovery Based on Products

Max

2.47

3.22

0.69

94%

96%

Max

3.36

1.49

0.89

96%

90%

Min

0.44

0.59

0.05

28%

34%

Min

0.60

0.69

0.07

23%

24%

Mean

1.01

1.11

0.24

73%

77%

Mean

1.51

1.07

0.50

60%

56%
Hazen Research studies on the sulphide samples illustrate that somewhere between 40 and 80% of the gold reports to a heavy mineral concentrate with the balance split almost evenly between the float and slime fractions. In the heavy fraction, the gold occurs mostly as minute 2-10 micron native gold grains, making it favourable for cyanide extraction.
As with all initial metallurgical test work additional improvements are anticipated with further testing.
Additional tests are currently in progress in order to assess any increase in recoveries with finer grinding. Given the rapidly expanding higher grade zones, it may be possible to consider milling those higher grade zones to enhance the overall recovery of gold. The extensive placer deposits at Livengood (estimated to have had historical production of approximately 880,000 ounces of gold) clearly demonstrate that there is significant coarse gold in the deposit thus the second stage of test work will also test the potential for a gravity separation stage prior to leaching. At the Fort Knox and Pogo mines substantial amounts of gold report to their gravity recovery systems and this might also provide a significant recovery enhancement at the Livengood deposit.
Qualified Person
Jeffrey A. Pontius (CPG 11044), a qualified person as defined by National Instrument 43-101, has supervised the preparation of the scientific and technical information that forms the basis for this news release and has approved the disclosure herein. Mr. Pontius is not independent of ITH, as he is the President and CEO and holds common shares and incentive stock options.
The work program at Livengood was designed and is supervised by Dr. Russell Myers, Vice President, Exploration, and Chris Puchner, Chief Geologist (CPG 07048), of the Company, who are responsible for all aspects of the work, including the quality control/quality assurance program. On-site personnel at the project photograph the core from each individual borehole prior to preparing the split core. Duplicate reverse circulation drill samples are collected with one split sent for analysis. Representative chips are retained for geological logging. All sample shipments are sealed and shipped to ALS Chemex in Fairbanks, Alaska for preparation and then on to ALS Chemex in Vancouver, B.C. for assay. ALS Chemex's quality system complies with the requirements for the International Standards ISO 9001:2000 and ISO 17025: 1999. Analytical accuracy and precision are monitored by the analysis of reagent blanks, reference material and replicate samples. Quality control is further assured by the use of international and in-house standards. Finally, representative blind duplicate samples are forwarded to ALS Chemex and an ISO compliant third party laboratory for additional quality control.
About International Tower Hill Mines Ltd.
International Tower Hill Mines Ltd. is a resource exploration company, focused in Alaska and Nevada, which controls a number of exploration projects representing a spectrum of early stage to advanced gold and base metal discoveries. The Company's 100% owned Livengood deposit is an advanced bulk tonnage resource expansion project that is the current focus of its Alaskan program. ITH is committed to building shareholder value through new discoveries while maintaining a majority interest in its holdings, thereby giving its shareholders the maximum value for their investment.
On behalf of
INTERNATIONAL TOWER HILL MINES LTD.
(signed)
Jeffrey A. Pontius
Jeffrey A. Pontius,
President and Chief Executive Officer
Contact Information: Quentin Mai, Vice-President - Corporate Communications
E-mail: qmai@internationaltowerhill.com
Phone: 1-888-770-7488 (toll free) or (604)683-6332 Ext. 5622 / Fax: (604) 408-7499
The TSX Venture Exchange has not reviewed and does not accept responsibility for the adequacy or accuracy of the contents of this press release, which has been prepared by management.

This press release contains forward-looking statements within the meaning of Section 27A of the Securities Act and Section 27E of the Exchange Act. Such statements include, without limitation, statements regarding the anticipated content, commencement and cost of exploration programs, anticipated exploration program results, the discovery and delineation of mineral deposits/resources/reserves, the anticipated preparation and timing of an updated 43-101 resource estimate at Livengood, the potential for a significant expansion of the estimated Livengood resources, the potential for improving and enhancing the gold recoveries from the Livengood deposit, business and financing plans and business trends. Information concerning mineral resource estimates also may be deemed to be forward-looking statements in that it reflects a prediction of the mineralization that would be encountered if a mineral deposit were developed and mined. Although the Company believes that such statements are reasonable, it can give no assurance that such expectations will prove to be correct. Forward-looking statements are typically identified by words such as: believe, expect, anticipate, intend, estimate, postulate, should and similar expressions, or are those, which, by their nature, refer to future events. The Company cautions investors that any forward-looking statements by the Company are not guarantees of future results or performance, and that actual results may differ materially from those in forward-looking statements as a result of various factors, including, but not limited to, variations in the nature, quality and quantity of any mineral deposits that may be located, the Company's inability to obtain any necessary permits, consents or authorizations required for its activities, the inability of the Company to obtain assay results in a timely manner due to laboratory workload, the Company's inability to produce minerals from its properties successfully or profitably, to continue its projected growth, to raise the necessary capital or to be fully able to implement its business strategies, and other risks identified in the Company's most recent Management Discussion and Analysis and Form 20F Annual Report. All of the Company's Canadian public disclosure filings may be accessed via www.sedar.com and its US disclosure filings at www.sec.gov and readers are urged to review these materials, including the technical reports filed with respect to the Company's mineral properties.

National Instrument 43-101 Standards of Disclosure for Mineral Projects ("NI 43-101") is a rule developed by the Canadian Securities Administrators, which established standards for all public disclosure an issuer makes of scientific and technical information concerning mineral projects. Unless otherwise indicated, all resource estimates contained in this press release have been prepared in accordance with NI 43-101 and the Canadian Institute of Mining, Metallurgy and Petroleum (the "CIM") Standards on Mineral Resource and Mineral Reserves, adopted by the CIM Council on November 14, 2004 (the "CIM Standards") as they may be amended from time to time by the CIM. United States shareholders are cautioned that the requirements and terminology of NI 43-101 and the CIM Standards differ significantly from the requirements and terminology of the SEC set forth Industry Guide 7. Accordingly, the Company's disclosures regarding mineralization may not be comparable to similar information disclosed by companies subject to the SEC's Industry Guide 7.

This press release and other information released by the Company uses the terms "mineral resource", "measured mineral resource", "indicated mineral resource" and "inferred mineral resource, which are defined in and required to be disclosed by NI 43-101; however, these terms are not defined terms under SEC Industry Guide 7 and are normally not permitted to be used in reports and registration statements filed with the SEC. Investors are cautioned not to assume that any part or all of mineral deposits in these categories will ever be converted into reserves or that they can be mined economically or legally. "Inferred mineral resources" have a great amount of uncertainty as to their existence, and great uncertainty as to their economic and legal feasibility. It cannot be assumed that all, or any part, of an inferred mineral resource will ever be upgraded to a higher category. Under Canadian rules, estimates of inferred mineral resources may not form the basis of feasibility or pre-feasibility studies, except in rare cases. Investors are cautioned not to assume that all or any part of an inferred mineral resource exists or that it can be economically or legally mined. Disclosure of "contained ounces" in a resource is permitted disclosure under Canadian regulations; however, the SEC normally only permits issuers to report mineralization that does not constitute "reserves" by SEC standards as in place tonnage and grade without reference to unit measures. Accordingly, information contained in this press release contains descriptions of the Company's mineral deposits that may not be comparable to similar information made public by U.S. companies subject to the reporting and disclosure requirements under the United States federal securities laws and the rules and regulations thereunder.

This press release is not, and is not to be construed in any way as, an offer to buy or sell securities in the United States.