ITH Acquires Key Land Position on its Coffee Dome Project, Alaska
March 13, 2007
Vancouver, B.C........International Tower Hill Mines Ltd. ("ITH" or the "Company") -- (TSX Venture: ITH, OTCBB: ITHMF, Frankfurt: IW9) is pleased to announce that it has entered in to an Exploration Agreement with Option to Lease with the University of Alaska regarding a key University of Alaska property adjacent to the Company's Coffee Dome project. This new ground expands the Coffee Dome Project by approximately 1,300 hectares. The target concept at Coffee Dome is for an intrusion related high-grade vein deposit similar to the Pogo Mine.
In 2006, the Company carried out an expanded soil survey on the University of Alaska ground, which generated a strong 700 by 200 metre gold and trace element anomaly. The results also indicate a possible extension of this anomaly a kilometre to the north. To date, the Company has also collected 111 rock samples on the University ground, which have returned values ranging from 2 ppb to 96.6 g/t gold.
The top 15% of these samples (17) average 31.2 g/t gold, 3% arsenic, 109 ppm bismuth and 16.8 ppm tellurium (Figure 1).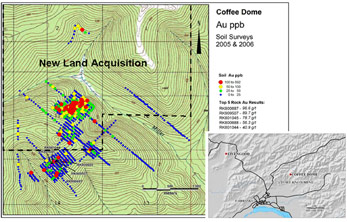 Figure 1. Gold in soil and top 5 rock sample data for the core area for Coffee Dome project.
Project Background
The Coffee Dome project was originally acquired by AngloGold Ashanti (U.S.A) Exploration Inc. in 2005 by a combination of staking new ground and leasing a 1,800 hectare block of Alaska State claims. The project was subsequently acquired by the Company when it purchased AngloGold's Alaskan property portfolio in August, 2006. This road accessible project is located in the Yukon-Tanana geological terrane which, in this area, is composed of metamorphic rocks of the Fairbanks Schist formation. The regional structural fabric is dominated by northeast trending strike slip faults, whose subsidiary structures appear to be controlling the mineralization on the project. Despite the project's close proximity to a major multimillion ounce mine it has received little exploration prior to AngloGold's acquisition of the project. The first soil survey ever conducted on the project was that conducted by AngloGold in 2005. To date a total of 819 soil samples and 111 rock samples have been collected on the property, which have defined three significant gold in soil anomalies, including the most recent zone identified on the University land. The project has not yet been drilled.
Exploration Agreement
On March 7, 2007 Talon Gold Alaska, Inc. (the wholly owned Alaska subsidiary of ITH) ("Talon"), signed a two stage Exploration Agreement with Option to Lease with the University of Alaska. The Exploration Agreement has an effective date of January 1, 2007 and covers approximately 1,300 hectares of land lying to the north of the existing Coffee Dome project. ITH has guaranteed the obligations of Talon under the Exploration Agreement. The key terms of the Exploration Agreement (and any resulting mining lease) are as follows:
Exploration Agreement
: In order to maintain the option to lease in good standing, Talon is required to pay the University USD 117,500 over five years (USD 15,000 first year) and incur exploration expenditures totalling USD 400,000 over five years (USD 25,000 commitment for the first year). If Talon does not terminate the option prior to January 1 in any option year, the specified minimum expenditures for that year become a commitment of Talon. Talon is also responsible for all taxes and assessments on the lands subject to the option.
Mining Lease
: At any time during the option period, Talon has the right to enter into a mining lease over some or all of the lands subject to the option. The mining lease will have an initial term of 15 years and for so long thereafter as commercial production continues and requires escalating advance royalty payments of USD 30,000 in year 1 to USD 150,000 in year 9 and beyond. Advance royalty payments are credited against 50% of production royalties. Talon is also required to incur escalating minimum mandatory exploration expenditures of USD 125,000 in year 1 to USD 350,000 in year 5 and beyond and to deliver a feasibility study within 10 years of the commencement of the lease. Upon the commencement of commercial production, Talon will pay a sliding scale net smelter return royalty of from 3% (USD 300 and below gold) up to 5% (USD 500 and up gold). Talon will also pay a sliding scale net smelter return royalty of from 0.5% (USD 450 and below gold) to 1% (USD 450 and above gold) on any federal or state claims staked by Talon or its affiliates within a 2 mile area of interest surrounding the University land (not including Talon's existing leased claims).
Target Summary
The target concept for the Coffee Dome project is for a high-grade vein deposit hosted within the metamorphic rock package of schist and quartzite. The quartz veins encountered to date are commonly banded with scorodite and arsenopyrite having textures suggestive of crack-seal and open space filling. Due to the extensive cover in the area the majority of the veins are scattered rubble crop occurrences ranging in width from 10-30 centimetres that are highly anomalous in gold, arsenic, bismuth, and tellurium. Due to the limited exposure, trenching will be required to assess vein density, width and orientation; although it appears from work to date that the veins are occurring in swarms along a generalized northeast trend.
The new large, very strong soil anomaly on the University ground is highly encouraging as it is significantly larger than the previous anomaly to the south (which has returned the high-grade vein values in rock sampling). This new anomaly, as well as a new area developing to the north, may be suggestive of an en echelon series of vein deposits which, in total, could potentially represent a very large gold system covering several square kilometres. ITH is planning an aggressive trenching and drilling program for the Coffee Dome project in 2007 to follow-up on the outstanding results received to date.
Qualified Person and Quality Control/Quality Assurance
Jeffrey A. Pontius (CPG 11044), a qualified person as defined by National Instrument 43-101, has supervised the preparation of the scientific and technical information that forms the basis for this news release. Mr. Pontius is the President and CEO of ITH.
The work program at Coffee Dome was designed and is supervised by Dr. Russell Myers, Vice President of Exploration, Talon Gold (US) LLC (a wholly owned subsidiary of ITH responsible for carrying out the Company's exploration programs), who is responsible for all aspects of the work, including the quality control/quality assurance program. All geochemical samples are secured and shipped to ALS Chemex for assay. ALS Chemex's quality system complies with the requirements for the International Standards ISO 9001:2000 and ISO 17025: 1999. Analytical accuracy and precision are monitored by the analysis of reagent blanks, reference material and replicate samples. Quality control is further assured by the use of international and in-house standards. Finally, representative blind duplicate samples are forwarded to ALS Chemex and an ISO compliant third party laboratory for additional quality control.
About International Tower Hill Mines Ltd.
International Tower Hill Mines Ltd. is a resource exploration company, focused in Alaska, which controls a number of exploration projects representing a spectrum of early stage to advanced gold discoveries. ITH is committed to building shareholder value through new discoveries while maintaining a majority interest in its holdings, thereby giving its shareholders the maximum value for their investment.
On behalf of
INTERNATIONAL TOWER HILL MINES LTD.
(signed)
Jeffrey A. Pontius
Jeffrey A. Pontius,
President and Chief Executive Officer
Contact Information:

Quentin Mai, Vice-President - Corporate Communications
E-mail: qmai@internationaltowerhill.com
Phone: 1-888-770-7488 (toll free) or (604)683-6332 / Fax: (604) 408-7499

The TSX Venture Exchange has not reviewed and does not accept responsibility for the adequacy or accuracy of the contents of this press release, which has been prepared by management.
This press release contains forward-looking statements within the meaning of Section 27A of the Securities Act and Section 27E of the Exchange Act. Such statements include, without limitation, statements regarding future anticipated property acquisitions, exploration program results, the discovery and delineation of mineral deposits/resources/reserves, business and financing plans, business trends and future operating costs and revenues. Although the Company believes that such statements are reasonable, it can give no assurance that such expectations will prove to be correct. Forward-looking statements are typically identified by words such as: believe, expect, anticipate, intend, estimate, postulate and similar expressions, or are those, which, by their nature, refer to future events. The Company cautions investors that any forward-looking statements by the Company are not guarantees of future results or performance, and that actual results may differ materially from those in forward looking statements as a result of various factors, including, but not limited to, variations in the nature, quality and quantity of any mineral deposits that may be located, the Company's ability to obtain any necessary permits, consents or authorizations required for its activities, the Company's ability to produce minerals from its properties successfully or profitably, to continue its projected growth, to raise the necessary capital or to be fully able to implement its business strategies. All of the Company's Canadian public disclosure filings may be accessed via www.sedar.com and its U.S. public disclosure filings at www.sec.gov and readers are urged to review these materials, including the technical reports filed with respect to the Company's mineral properties. This press release contains information with respect to adjacent or similar mineral properties in respect of which the Company has no interest or rights to explore or mine. The Company advises US investors that the US Securities and Exchange Commission's mining guidelines strictly prohibit information of this type in documents filed with the SEC. Readers are cautioned that the Company has no interest in or right to acquire any interest in any such properties, and that mineral deposits on adjacent or similar properties are not indicative of mineral deposits on the Company's properties.
This press release is not, and is not to be construed in any way as, an offer to buy or sell securities in the United States.