International Tower Hill Mines To Commence District-Wide Exploration Program at the Livengood Gold Project, Alaska
April 18, 2012
Vancouver, B.C……..International Tower Hill Mines Ltd. ("ITH" or the "Company") - (TSX: ITH, NYSE-A: THM, Frankfurt: IW9) announces that, on May 1, 2012, it will be commencing two major field drill programs consisting of district-wide exploration and condemnation drilling at the Company's 100% controlled Livengood Gold Project near Fairbanks, Alaska. Results from the drill programs are expected throughout the summer and fall of 2012.
The Company plans to drill 3,000 metres in 10 core holes as part of its initial district-wide exploration program focused on making new discoveries in the Company's 145 km2 land package. Prior drilling, mapping and surface geochemical sampling conducted in 2010 had identified an area northeast of the Money Knob deposit where faults, dikes and anomalous gold coincide, indicating an area of potentially significant mineralization. An initial three holes are planned to target the area to assess the extent of the mineralization (see Figure 1 below). Subsequent exploration drill sites are contingent on the results of the initial holes.
In addition, a 40-hole, 6,000-metre program of condemnation drilling will be carried out to either sterilize or establish the presence of significant mineralization in the area surrounding the Money Knob deposit and extending northeast towards existing mineralized exploration drill holes. The purpose of the condemnation drilling program is to determine appropriate areas for infrastructure development.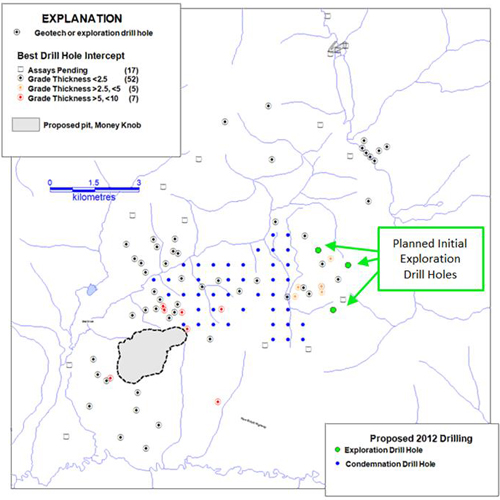 Figure 1: Map showing distribution of regional geotechnical and exploration holes at Livengood, whether they intersect gold mineralization, and the locations of proposed condemnation and exploration core holes for the 2012 program.
"With our Money Knob deposit sitting at over 16.5 million ounces in the Measured and Indicated, and 4.1 million ounces in the Inferred, resource categories, it is important for us to look in new areas of our land package to see if we can find additional gold deposits," stated Jim Komadina, Chief Executive Officer. "In addition, as the Livengood project progresses toward permitting and development, it is crucial to begin engineering data acquisition so that regulatory and community engagement can begin. The condemnation drill program is designed to enable Tower Hill Mines, Inc. to be ready for these important discussions in the first quarter of 2013."
In separate news, the Company confirmed today that the report of the Company's independent public accounting firm on its audited consolidated financial statements for the seven month period ended December 31, 2011 and for the year ended May 31, 2011, as filed with certain Canadian regulatory authorities and with the United States Securities and Exchange Commission in the Company's annual report on Form 40-F, on March 26, 2012, contained an "emphasis of matter" paragraph in relation to a going concern explanatory note. The note did not modify the report of the independent auditor, but instead draws attention to Note 1 of the Company's audited consolidated financial statements which describe certain material uncertainties related to the ability of the Company to continue as a going concern. Under rules of the NYSE Amex the inclusion of such a paragraph is required to be announced. As disclosed in Note 1 to the Company's audited consolidated financial statements, the Company's current working capital is considered sufficient to fund its operations and exploration program for the current fiscal year.
About International Tower Hill Mines Ltd.
International Tower Hill Mines Ltd. controls a 100% interest in the world-class Livengood Gold Project accessible by paved highway 70 miles north of Fairbanks, Alaska. In 2012 ITH is focused on the rapid advancement of the Livengood project into a compelling potential development scenario while it continues to seek to expand its current resource and explore its 145 km2 district for new deposits.
On behalf of
International Tower Hill Mines Ltd.
(signed) James Komadina
James J. Komadina
Chief Executive Officer
Contact Information:
Shirley Zhou, Vice-President - Corporate Communications
E-mail: szhou@ithmines.com
Direct line: 604-343-4799
Toll-Free: 1-855-208-4642 Ext. 213
Cautionary Note Regarding Forward-Looking Statements
This press release contains forward-looking statements and forward-looking information (collectively, "forward-looking statements") within the meaning of applicable Canadian and US securities legislation. All statements, other than statements of historical fact, included herein including, without limitation, statements regarding the anticipated content, commencement, completion and cost of exploration programs, anticipated exploration program results and the timing thereof, the discovery and delineation of mineral deposits/resources/reserves, the potential for the expansion of the estimated resources at Livengood, the identification of additional deposits on the Company's Livengood land package, the potential for a production decision to be made, the potential commencement of any development of a mine at Livengood following a production decision, business and financing plans and business trends, are forward-looking statements. Information concerning mineral resource estimates and the preliminary economic analysis thereof also may be deemed to be forward-looking statements in that it reflects a prediction of the mineralization that would be encountered, and the results of mining it, if a mineral deposit were developed and mined. Although the Company believes that such statements are reasonable, it can give no assurance that such expectations will prove to be correct. Forward-looking statements are typically identified by words such as: believe, expect, anticipate, intend, estimate, postulate, proposed, planned, potential and similar expressions, or are those, which, by their nature, refer to future events. The Company cautions investors that any forward-looking statements by the Company are not guarantees of future results or performance, and that actual results may differ materially from those in forward looking statements as a result of various factors, including, but not limited to, variations in the nature, quality and quantity of any mineral deposits that may be located, variations in the market price of any mineral products the Company may produce or plan to produce, the inability of the Company to obtain any necessary permits, consents or authorizations required for its activities, the inability of the Company to produce minerals from its properties successfully or profitably, to continue its projected growth, to raise the necessary capital or to be fully able to implement its business strategies, and other risks and uncertainties disclosed in the Company's Annual Information Form filed with certain securities commissions in Canada and the Company's annual report on Form 40-F filed with the United States Securities and Exchange Commission (the "SEC"), and other information released by the Company and filed with the appropriate regulatory agencies. All of the Company's Canadian public disclosure filings may be accessed via www.sedar.com and its United States public disclosure filings may be accessed via www.sec.gov, and readers are urged to review these materials, including the technical reports filed with respect to the Company's mineral properties.
This press release is not, and is not to be construed in any way as, an offer to buy or sell securities in the United States.