International Tower Hill Expands Livengood Southwest Zone Discovery
April 2, 2009
| | |
| --- | --- |
| SW Zone Intercepts Include: | 35 metres @ 3.0 g/t Gold |
| | 15 metres @ 2.1 g/t Gold |
| | 69 metres @ 1.1 g/t Gold |
Vancouver, B.C...International Tower Hill Mines Ltd. ("ITH" or "the Company") - (TSXV: ITH, NYSE-A: THM, Frankfurt: IW9) is pleased to announce results from an additional six holes from the 2009 resource expansion drill program on its Livengood Gold Project, Alaska. These results include four holes from the previously unexplored south-western extension of the deposit.
Discovery holes MK-RC-0115 encountered 68.6 metres @ 1.1g/t gold, MK-RC-0116 15.2 metres @ 2.1g/t gold and MK-RC-0118 35.0 metres @ 3.0g/t gold. These holes are 100 metres apart and each represents a step out of approximately 300 metres to the southwest from the nearest existing holes.
Dr. Russell Myers, Vice-President, Exploration, of ITH, said "There is no question that these holes represent a major expansion of the deposit, with grades as good as or better than those found in the Core Zone defined last year."
Mineralization in the southwest sector occurs in all units of the stratigraphy and at depths ranging from the surface to 300 metres (e.g. Table 1, MK-RC-0116). Hole MK-RC-0117, also in the southwest sector, was lost before reaching its target depth. The upper portion of the gold zone returned grades of 0.85 g/t gold over 30 metres (Table 1). Four more holes have been completed in the southwest sector and at least two more will be drilled before the winter program finishes on the 15th of April.
In the north-eastern sector, new assays from hole MK-RC-0112 have redefined the upper zone of mineralization, which now has 41 metres @ 1.7g/t gold on top of the previously reported 100 metres @ 1.1g/t gold (Table 1). Drill holes MK-RC-0113 and MK-RC-0114 also encountered multiple zones of mineralization which will be followed up (Table 1). At least three more holes will be drilled in this area before the winter program ends.
Once all the assays are back from the winter drilling program a new resource estimate will be calculated and a preliminary economic assessment completed. The main phase drilling program will recommence in June, 2009, when two RC drills and a core drill will begin drilling out the eastern and north-eastern areas of the deposit. A total of 45,000 metres of drilling is planned for 2009.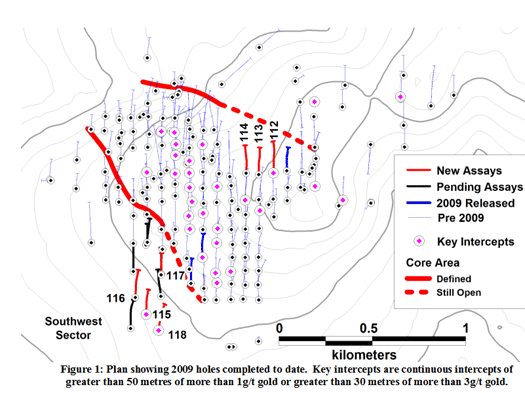 Table 1: New Intercepts from Drilling at Livengood
| | | | | |
| --- | --- | --- | --- | --- |
| Hole ID | From (metres) | To (metres) | Length (metres) | Gold (g/t) |
| MK-RC-0112 | 111.25 | 152.40 | 41.15 | 1.69 |
| | 256.03 | 356.62 | 100.59 | 1.13 |
| | | | | |
| MK-RC-0113 | 82.30 | 94.49 | 12.19 | 1.62 |
| | 198.12 | 205.74 | 7.62 | 1.29 |
| | 254.51 | 333.76 | 79.25 | 0.63 |
| | | | | |
| MK-RC-0114 | 77.72 | 86.87 | 9.15 | 0.86 |
| | 115.82 | 120.40 | 4.58 | 2.27 |
| | 131.06 | 147.83 | 16.77 | 0.64 |
| | 207.26 | 219.46 | 12.20 | 0.77 |
| | 286.51 | 307.85 | 21.34 | 0.76 |
| | | | | |
| MK-RC-0115 | 169.16 | 237.74 | 68.58 | 1.12 |
| | 243.84 | 265.18 | 21.34 | 0.94 |
| MK-RC-0116 | 0.00 | 25.91 | 25.91 | 0.62 |
| | 60.96 | 76.20 | 15.24 | 2.12 |
| | 201.17 | 217.93 | 16.76 | 1.05 |
| | 222.50 | 295.66 | 73.16 | 0.58 |
| | | | | |
| MK-RC-0117 | 137.16 | 167.64 | 30.48 | 0.85 |
| | | | | |
| MK-RC-0118 | 124.97 | 160.02 | 35.05 | 3.00 |
| includes | 152.4 | 155.45 | 3.05 | 24.86 |
| | 166.12 | 185.93 | 19.81 | 0.91 |
| | 248.41 | 289.56 | 41.15 | 0.61 |
Livengood Project
The Livengood project has a very favourable logistical location, being situated 110 road kilometres north of Fairbanks, Alaska along the paved, all-weather Elliott Highway and the Trans Alaska Pipeline Corridor; approximately 55 kilometres north of the Alaska State power grid; and along the proposed Alaska natural gas pipeline route. ITH controls 100% of its 44 square kilometre Livengood land package that is primarily comprised of fee land leased from the Alaska Mental Health Trust and a number of smaller private mineral leases. The thick, shallowly dipping, outcropping gold deposit at Livengood has a favourable geometry for a low strip, bulk tonnage mining operation. Initial metallurgical data indicates the deposit is potentially amenable to low cost, heap leach gold recovery.
The Company and its predecessor, AngloGold Ashanti (U.S.A.) Exploration Inc., have been exploring the Livengood area since 2003, with the project's first indicated resource estimate being announced in early 2008. The 2008 drilling program marked the first grid drilling resource definition campaign for the project and was only the initial step in what the Company envisions as a major exploration program to define what it anticipates is one of the world's larger new gold deposits.
A 3D image of the most recently released Livengood drill information can be viewed at:
http://www.corebox.net/properties/livengood/
.
About International Tower Hill Mines Ltd.
International Tower Hill Mines Ltd. is a resource exploration company, focused in Alaska and Nevada, which controls a number of exploration projects representing a spectrum of early stage to the advanced multimillion ounce gold discovery at Livengood. ITH is committed to building shareholder value through new discoveries while maintaining a majority interest in its key holdings, thereby giving its shareholders the maximum value for their investment.
On behalf of
INTERNATIONAL TOWER HILL MINES LTD.
(signed) Jeffrey A. Pontius
Jeffrey A. Pontius,
President and Chief Executive Officer
Contact Information:
Quentin Mai, Vice-President - Corporate Communications
E-mail:
qmai@internationaltowerhill.com
Phone: 1-888-770-7488 (toll free) or (604)683-6332 / Fax: (604) 408-7499
Neither TSX Venture Exchange nor its Regulation Services Provider (as that term is defined in the policies of the TSX Venture Exchange) accepts responsibility for the adequacy or accuracy of this press release, which has been prepared by management.

Cautionary Note Regarding Forward-Looking Statements

This press release contains forward-looking statements within the meaning of Section 27A of the Securities Act and Section 27E of the Exchange Act. All statements, other than statements of historical fact, included herein including, without limitation, statements regarding the anticipated content, commencement and cost of exploration programs, anticipated exploration program results, the expansion of the estimated resources at Livengood, the discovery and delineation of additional mineral deposits/resources at the Livengood project, business and financing plans and business trends, are forward-looking statements. Information concerning mineral resource estimates also may be deemed to be forward-looking statements in that it reflects a prediction of the mineralization that would be encountered if a mineral deposit were developed and mined. Although the Company believes that such statements are reasonable, it can give no assurance that such expectations will prove to be correct. Forward-looking statements are typically identified by words such as: believe, expect, anticipate, intend, estimate, postulate and similar expressions, or are those, which, by their nature, refer to future events. The Company cautions investors that any forward-looking statements by the Company are not guarantees of future results or performance, and that actual results may differ materially from those in forward looking statements as a result of various factors, including, but not limited to, variations in the nature, quality and quantity of any mineral deposits that may be located, the Company's inability to obtain any necessary permits, consents or authorizations required for its activities, the Company's inability to produce minerals from its properties successfully or profitably, to continue its projected growth, to raise the necessary capital or to be fully able to implement its business strategies, and other risks and uncertainties disclosed in the Company's Annual Information Form filed with certain securities commissions in Canada and its annual report on Form 20-F filed with the United States Securities and Exchange Commission (the "SEC"), and other information released by the Company and filed with the appropriate regulatory agencies. All of the Company's Canadian public disclosure filings may be accessed via www.sedar.com and its United States public disclosure filings may be accessed via www.sec.gov, and readers are urged to review these materials, including the technical reports filed with respect to the Company's mineral properties.

Cautionary Note Regarding Reference to Resources and Reserves

National Instrument 43 101 Standards of Disclosure of Mineral Projects ("NI 43 101") is a rule developed by the Canadian Securities Administrators which establishes standards for all public disclosure an issuer makes of scientific and technical information concerning mineral projects. Unless otherwise indicated, all reserve and resource estimates contained in or incorporated by reference in this press release have been prepared in accordance with NI 43 101 and the guidelines set out in the Canadian Institute of Mining, Metallurgy and Petroleum (the "CIM") Standards on Mineral Resource and Mineral Reserves, adopted by the CIM Council on November 14, 2004 (the "CIM Standards") as they may be amended from time to time by the CIM.

United States shareholders are cautioned that the requirements and terminology of NI 43-101 and the CIM Standards differ significantly from the requirements and terminology of the SEC set forth Industry Guide 7. Accordingly, the Company's disclosures regarding mineralization may not be comparable to similar information disclosed by companies subject to the SEC's Industry Guide 7. Without limiting the foregoing, while the terms "mineral resources", "inferred mineral resources" and "indicated mineral resources" are recognized and required by NI 43-101 and the CIM Standards, they are not recognized by the SEC and are not permitted to be used in documents filed with the SEC by companies subject to Industry Guide 7. Mineral resources which are not mineral reserves do not have demonstrated economic viability, and United States shareholders are cautioned not to assume that all or any part of a mineral resource will ever be converted into reserves. Further, inferred resources have a great amount of uncertainty as to their existence and as to whether they can be mined legally or economically. It cannot be assumed that all or any part of the inferred resources will ever be upgraded to a higher resource category. In addition, the NI 43-101 and CIM Standards definition of a "reserve" differs from the definition adopted by the SEC in Industry Guide 7. In the United States, a mineral reserve is defined as a part of a mineral deposit which could be economically and legally extracted or produced at the time the mineral reserve determination is made.
This press release is not, and is not to be construed in any way as, an offer to buy or sell securities in the United States.